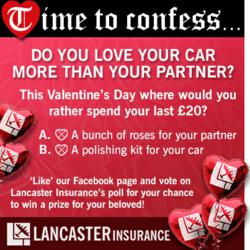 Owners become obsessed with finding replacement parts and following recommended 'care for' practices.
(PRWEB UK) 8 February 2013
Lancaster Insurance, specialist insurance arrangers in the classic car market, have been finding out exactly how much classic car enthusiasts love their cars. Recent research* has revealed that as much as £107.5 million was spent by classic car owners on their hobby last year at an average of nearly £600 per enthusiast per month.
It is a time of extreme austerity and many people across the country are spending less on luxury items and forgoing the tradition of giving lavish gifts, yet are still spending thousands on their car hobbies. Will relationships suffer this Valentine's Day due to the car getting more love than their loved one?
What makes people crazy about their classics?
Classic cars aren't like the modern alternatives, as many owners feel their cars have their own personalities. To some people, owning a classic car is similar to embarking on an exciting adventure as they discover their car's little quirks and how to deal with them. No two cars are truly the same.
There is also something special and unique about the relationship shared by classic cars and their owners, with many classic enthusiasts spending hours every week tweaking, buffing and mending all manner of problems their cars have developed. Owners become obsessed with finding replacement parts and following recommended 'care for' practices. Even if the owner doesn't do the work themselves, classics can need regular trips to the garage which can be costly.
It's not just the costs of fixing the car but all the other costs that come with being a classic car enthusiast, such as the getting the right car polishing and cleaning products, attending shows and joining a relevant car club.
A spokesperson at Lancaster Insurance comments: "By getting the right insurance policy, owner's can go quite some way to removing their worries and in addition, getting an agreed value and breakdown cover can help if anything goes wrong."
Classic Cars can be an expensive and time consuming hobby, but the course of true love never runs smooth.
Lancaster Insurance are running a competition via Facebook to discover how many enthusiasts really do love their car more than their partner. Get involved @http://www.facebook.com/LancasterIns
*Bauer Media - Classic Cars Magazine Advert Focus 2012
Lancaster Insurance Services Ltd, established in 1984, specialises in arranging classic car insurance as well as other general insurance products. Our services are available to residents of the United Kingdom (including Northern Ireland), the Channel Islands and The Isle of Man.
Lancaster search a carefully selected panel of insurers which includes many of the UK's leading insurers to get great deal's on classic car insurance. Policy benefits may include agreed valuation, limited mileage discounts, wedding hire, car club member discounts and much more.