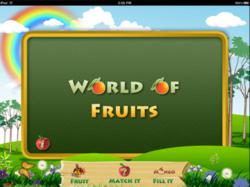 (PRWEB) February 07, 2013
Dev IT Solutions, a well known IT solutions provider, now designs and brings out a fun and educational mobile app- "World of Fruits" which is yet another significant application developed for kids. The application is expected to make kids learn various kinds of fruits in an interesting way. The application tempts the users with attractive and luscious images of fruits which further improves the fruit knowledge. The application is designed keeping in mind age limit of the kids. The HD quality of images will make the experience of learning new fruits more juicy and energetic for kids.
A spokesperson from the Dev IT Solutions said that, "The application is very engaging because it provides spellings of fruits. Learning fruits is like a roller coaster ride now. This intuitive and new app provides amazing access to huge collection of fruits. The score will be displayed only when correct fruit is matched with the spelling. It is a splendid experience on the iPad. The audio in the application makes it enchanting. "
World of Fruits – is a mobile app with colorful interface and interactive images and activities. This must have app for kids of different ages is designed at HD quality experience of fruits. It is an engaging app that helps kids identify the fruit and learn its spelling. This intuitive app also helps kids like the fruits as it has presented very juicy and attractive images.
World of fruits for iPhoneOnce the user matches the fruit with its correct spelling, the score is revealed. Audio of the app is as interesting as the app itself.
-
World of Fruits for iPad
About Dev IT Solutions
The company offers software and application development on various E-Commerce platforms, Product support and Development, Open Source, JavaScript, PHP, Flash, ASP.Net, Mobile Application, iPhone, Ajax, BlackBerry and Search Engine Optimization for the web. This mobile application helps learn about fruits in playful yet simple manner. The application enables learning fruits while having fun.
Contact:
Dev IT Solutions Pvt. Ltd.
A-302, Shapth Hexa, Opp. High Court
S.G. Highway, Sola - 380060
1-760-621-3474
Email:info(at)DevITSolutions(dot)com
iPhone, iPad are trademarks of Apple Inc., Android is trademarks of Google Inc., Blackberry is trademarks of RIM Inc., Windows is trademarks of Microsoft Inc.