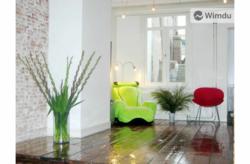 This year, say Gung Hay Fat Choy (Happy New Year) and celebrate the Year of The Snake in another part of the world!
(PRWEB UK) 4 February 2013
This year, say Gung Hay Fat Choy (Happy New Year) and celebrate the Year of The Snake in another part of the world!
Bastille, Paris
http://www.wimdu.co.uk/offers/3JBYKNVY
Suitable for 10 guests, this flat at the heart of Bastille boasts a spacious and airy lounge, flat screen television and even a grand piano! The ultimate in sumptuousness, guests have Wi-Fi access and free landline calls (country restricted). The modern kitchen is large and fully equipped with a stove, oven, coffee machine, microwave, fridge-freezer, dishwasher and all the amenities needed for a comfortable stay.
Closest Chinatown: Bellville, 10 mins.
De Wallen, Amsterdam
http://www.wimdu.co.uk/offers/8JYAD7R4
Airy and bright, this modern, minimalist apartment spans three floors and comfortably accommodates 6 adults. The property holds a fully furnished kitchen, study and three decorated bedrooms including a master bedroom. Due to the split level style, this property is less suitable for those with young children. Situated in De Wallen, guests are based in Amsterdam's very own Chinatown, giving front row seats for Chinese New Year.
Closest Chinatown: De Wallen, 3 mins.
Covent Garden, London
http://www.wimdu.co.uk/offers/BGBF1FOY
Feel the hustle and bustle of London and place yourself at the centre of London's entertainment district. Situated on the first floor of an 1889 Edwardian building, this contemporary apartment is perfect for those seeking the glitz and glamour of the city. Guests are provided with towels / linen and have wireless internet access. Once settled, guests can head to Chinatown in Europe and soak up the vibrant atmosphere. Then it's onward to Trafalgar Square to watch one of the biggest Chinese New Year parades in Europe!
Closest Chinatown: Soho, 2 mins.
Lisbon
http://www.wimdu.co.uk/offers/B69XT74V
Close to the best fish restaurants in town, this newly renovated apartment has wonderful views of Lisbon and is great for short term breaks. Suitable for up to six guests, the property holds three bedrooms and has all mod cons including microwave, washing machine and Wi-Fi. Visitors can even bring their own pets and show them the delights of the local beach which is mere moments away.
Closest Chinatown: Martim Moniz, 4 mins
Milan
http://www.wimdu.co.uk/offers/2IBRKMFW
This beautiful apartment in downtown Milan, oozes class, sophistication and style. Ideal for couples, the property has one double bedroom with queen sized bed and en-suite bathroom with shower and one twin bedroom with second bathroom as well as its very own Jacuzzi. Relax in the large living room and dining area and whip up delightful Eastern treats in the fully equipped kitchen.
Closest Chinatown: Via Paolo Sarpi, 25 mins
About Wimdu
Wimdu is a social accommodation community that brings together travellers and hosts from around the world to enable consumers worldwide to travel like a local.
Wimdu enables hosts to generate additional income on their spare rooms, while guests can search for a room and a rate that suits them. The site lists a range of over 50,000 properties internationally across over 100 countries with everything from bolt holes in Berlin to English castles.
Wimdu was founded in 2011 by serial entrepreneurs Hinrich Dreiling and Arne Bleckwenn who wanted to harness social media to transform the way consumers are travelling worldwide.