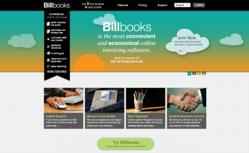 San Francisco, CA (PRWEB) February 11, 2013
Billbooks – The most economical and convenient online invoicing software is here to redefine web based accounting. With Billbooks, sending invoices and estimates is simple and cost-effective as well! This online invoicing software is designed to transcend ultimate client experience with its multifarious built-in features.
With Billbooks you can:

Send free estimates
Manage unlimited staffs and clients
Send invoices via email
Track and print expenses
Quick manage reporting
Billbooks is not just about convenience, its about saving the user's billing time with a great UI at play.
Here is what Billbooks has in store for its users:
Pay Per Invoice not per month: With Billbooks users just need to pay per invoice and not per month. This makes Billbooks the most economical online accounting application.
Multilingual: This feature rich application is available in 5 languages which include English, Spanish, French, German and Dutch. Billbooks is multilingual and a user compatible online accounting application.
Manage Invoices: With Billbooks, users can keep track of pending and closed invoices on their personalised Dashboard. Now Billers can Send, Edit, Print, Delete Invoices and manage clients without any hassles. Need to create duplicate invoices? Get it done in an instant with this cloud based invoicing application.
Cost-Effective Solution: Billbooks is an easy-to-use cloud based accounting application which is an inexpensive solution to the user's invoicing needs. Billers just need to pay for the invoices sent to the clients and not per month. Estimate sending will always remain free!
Instant Support: In case of queries, a dedicated chat line service is kept open for the users, 10 hours a day. Just drop in an offline message, otherwise, and the support team will get back at the earliest.
Expense Tracker: Managing and tracking expenses can be done more efficiently with Billbooks' profit & loss reporting feature.
Keyboard Shortcuts: Billbooks allows you to generate estimates and invoices using simple keyboard shortcuts.
Client Management:Billbooks users can add new clients, import and export client details within seconds. Send reminders to clients and stay organized with this user friendly online invoicing application. Send invoices/estimates as PDF's to clients who can either choose to save or print it on 3 exclusive paper sizes.
Start-up Business Compatible: Billbooks is reliable and compatible for small businesses. Sign-up with Billbooks to send first 3 invoices for absolutely NO COST.
Security: Billbooks is designed keeping in mind information security via the implementation of state-of-the-art technologies. High end security solutions from Billbooks guarantee data shielding, vulnerability scanning and physical data protection.
Adding to this are premium packages from Billbooks exclusively for 'Billbookers'. Get a feature filled application at zero monthly rentals on signing-up.
Free Estimates and Never Expiring Invoice Credits, Billbooks has much more to offer than a user can probably expect.
Experience the competency of a cost-effective online invoicing solution with Billbooks!
About Billbooks:
Billbooks is an online invoicing application which allows you to send estimates and invoices to your diversified clientele with great convenience. Billbooks is the cost-effective answer to your multifarious accounting needs. With Billbooks you can create and send free estimates to your clients around the globe. All you need to do is just pay per invoice and not per month!