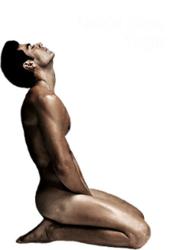 Naked Yoga is the most freeing experience that gets you back to your natural state.
New York City, NY (PRWEB) February 05, 2013
There is a growing number of men in New York City who sign up for Naked Yoga. Now Le Male Yoga, NYC's premier studio for men, offers its proven beginner series in the nude to give first-time students the opportunity to experience Yoga without the restriction of clothing.
While practicing Yoga in the nude, people are getting back to their natural state says Joschi Schwarz, Owner of Le Male Yoga. Yoga is about acceptance and practicing naked Yoga helps with self-acceptance - accepting the body! To be able to let go of that last barrier of protection, letting go of the ego and just fully concentrating on oneself is huge.
Some critics perceive Naked Yoga as sexual, but Schwarz says it is the most freeing experience and the class itself is sensual but not sexual in any sense. An added bonus is that it is much easier for the teacher to correct the poses and see the muscles and alignment of students perfectly, which is especially important for beginners.
Le Male Yoga starts its Naked Yoga for Men beginner series this February and encourages Men to face the challenge and conquer it.
About Joschi Le Male Yoga:
Le Male Yoga is for fit men who aim to initiate a lifestyle that liberates, expands and energizes.
Le Male Yoga has personality. LMY is one place and is singularly focused on creating a new and different experience for fit, in-shape and athletic men to practice Tantra and Vinyasa Yoga in an accessible way.
Le Male Yoga provides a friendly, spirited, vibrant and real community for all men - gay, straight or bisexual, who enjoy fitness, communal bonding, socializing & having fun in a safe and pretense-free atmosphere.
Students explore Power Flow Yoga for a high-heat, high-energy workout, Tantric Yoga to tap into their sexual core energy and Yogassage to enhance their body's erotic potential.
Whether students are a beginner, advanced practitioner or somewhere in between... LMY offers a unique opportunity for every man to recharge his body, update his mindset and celebrate life.
Le Male Yoga offers one-of-a kind classes, workshops, teacher trainings and retreats in New York City and around the world.