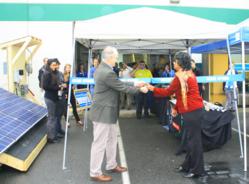 This training facility marks our next step forward in providing hands-on training in solar, energy efficiency, and green building.

-Vince DiFrancesco, Everblue's Vice President of Operations and Administration
CHARLOTTE, N.C. (PRWEB) February 04, 2013
Everblue, the nation's premier training provider for sustainability, unveiled its first green training facility this month in Charlotte, N.C., giving potential students and interested industry professionals a look inside.
The new green training facility features a model solar array and house mock-up for home performance training. A grand opening event highlighted the hands-on training that will be provided at the Charlotte, N.C. location.
"I am happy the [training facility] is here," said Rep. Carla Cunningham of the North Carolina 106th district. "[Everblue] is bringing some type of clean energy into our community so that people can live better and healthier lives."
Cunningham, a strong energy proponent, assisted Vince DiFrancesco, Everblue's vice president of operations and administration, in cutting the grand opening ribbon at the event.
"Everyone here at Everblue is very excited to show off our new hands-on training facility," said DiFrancesco. "This training facility marks our next step forward in providing hands-on training in solar, energy efficiency, and green building."
The grand opening event highlighted Everblue's commitment to providing both high-quality sustainability training and supporting local community organizations. The event showcased the work of the North Carolina State University (NCSU) EcoCAR 2 team and the Mount Pleasant High School Junior Engineering Technical Society (JETS) Club.
The NCSU EcoCAR 2 team, sponsored by the U.S. Department of Energy (DOE) and General Motors (GM), is developing a Chevrolet Malibu for the Advanced Technology Vehicle Competition (ATVC) to be held in May 2013.
"The team is working very hard to have the car ready for final competition in May," said Carly Swanson, the NCSU EcoCAR 2 communications manager. "We are so lucky to have this opportunity though GM and DOE, and it's exciting we are able to create a sustainable design that could possibly be implemented into our society one day."
The MPHS JETS Club brought an electric-powered Porsche 944 to the grand opening event. The car, sponsored by the National Auto Sport Association Southeast region, demonstrated the students' commitment to researching alternative energy resources.
"We worked really hard to get this car ready for [the grand opening] event," said Brandon Pantas. "I have learned a lot about how cars work and how hard it can be to meet deadlines."
Everblue will offer monthly training at 8425 Old Statesville Road, Unit B6, Charlotte, N.C. Course subjects include solar panel installation, residential energy auditing, and green building project experience.
About Everblue:
Everblue, a veteran-founded business, is the nation's premier training provider for sustainability, with course offerings in over 100 locations worldwide. Recognized by the White House as a "Champion of Change," Everblue has helped develop a highly-skilled labor force in the building and construction industries.