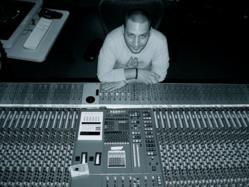 There's no cooler spot in L.A. to be teaching audio technology than SAE.
New York, NY (PRWEB) February 05, 2013
When Doug Fenske isn't delivering knowledge to his students as a part time supervisor at SAE Institute in Los Angeles, he's delivering solutions for his freelance audio engineering clients. One of the biggest solutions that he's delivered over the past year has been his work with producer Andre 3000 on Frank Ocean's hit album "Channel Orange", which is nominated for a Grammy award in the Album of the Year category.
"I've been on the freelance engineering circuit in Los Angeles since January 2008, and the Frank Ocean session happened because I did what any good freelance engineer does: I made myself available," says Doug. "Steve Burdick, owner/operator at Westlake Recording Studios in L.A., called me and said, 'I have Andre 3000 coming in and I need a veteran engineer'. He asked if I could take the gig, and of course I accepted. On my way to the studio, I didn't even know that the session was for Frank, but the second engineer filled me in when I arrived. Andre got there first, and then Frank a few minutes later. We started the session and everything went great."
Doug's impressive studio resume and vast engineering experience allows him to provide his students at SAE with valuable real-world insights. His involvement with artists who are currently on the charts and nominated for the most prestigious award in the music business also enhances his credibility.
"I'm a big fan of SAE students," explains Doug. "They're provided with all of the essential tools that they'll need to succeed in audio engineering. But just like anything else in life, the ones who put in the extra effort will be the ones who will get the gigs. Students who stay after class, book a ton of time in our studios, and constantly ask questions will eventually be the go-to, first-call engineers of tomorrow."
Doug grew up in Richton Park, IL, a suburb of Chicago. He moved to Tempe, AZ in 2005 to attend the Conservatory of Recording Arts and Sciences, and after graduation, moved to Los Angeles. He landed a gig as an intern at Westlake Recording Studios in Hollywood, and soon became an assistant engineer on a variety of projects – including tracks by Quincy Jones, Britney Spears, Cee Lo Green, Snoop Dogg, Randy Jackson, Jack Douglas, and Herbie Hancock. Currently, Doug is working as an independent engineer and producer, and has recorded and mixed songs for such A-list artists as Bruno Mars, LL Cool J, John Legend, and The Wanted.
"I got involved with SAE in late 2012 when I was helping a friend in L.A. choose an audio engineering school," says Doug. The first school we toured was SAE. As it turned out, one of my former classmates was the Associate Director, and one of my former teachers was working there as well. I chose to get on board because I eventually want to teach full time when my studio work simmers down, and there's no cooler spot in L.A. to be teaching audio technology than SAE."
Of all the many musical genres that he's worked in, Doug finds pop projects the most demanding, both creatively and technically.
"I didn't listen to traditional/organic pop, pop/rock, urban pop, or electronic pop before I moved to L.A., but after doing many of these sessions, I realized that it takes a lot of production to make them sound perfect," explains Doug. "I ended up gravitating towards pop because it's held to a higher production standard and is more challenging to create. There's no room for 'that amp is buzzy, but leave it - it's rock n' roll!', or 'the kick and snare are on the same track, but leave it – it's hip hop!'. You can't get away with that in pop, and I respect that."
An area where Doug sees tremendous job opportunities for SAE graduates is the audio production of video games.
"Sound design, voice-overs, and music are all key components of video games, and engineers are needed on all of those sessions," says Doug. "SAE grads who want to find work in the video game industry should focus on approaching not just the big gaming companies, but also smaller, sub-contracted companies that focus on one aspect of a game's audio production, such as dialogue."
Even with a full schedule as one of L.A.'s most in-demand audio engineers, Doug still finds time for his SAE teaching gig. The reason? It keeps his troubleshooting skills sharp.
"Often times, studio veterans can misdiagnose an issue for clients because we overthink the problem," Doug says. "Teaching the students at SAE to figure out how to solve their technical issues reminds me to keep basic signal flow and gain structure in mind. It's a mutually beneficial relationship: the students benefit from my guidance, and our interactions make me more valuable as a teacher and an engineer."