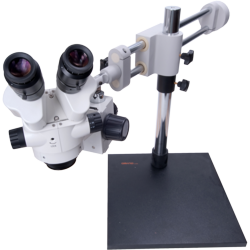 "The customer service is absolutely the best and the inventory, support, shipping options, educational discounts and related information on the site make is it a clear winner among the best-of-the-best online microscope stores."
Roanoke, VA (PRWEB) February 06, 2013
The store achieved a perfect 10 rating across five key criteria of Inventory, Site Features, Support & Shipping and Value and even ranking ahead of Amazon.com. The company carries inventory of their house brand of microscope, Omano, along with name brands like Dino-Lite, Motic, Meiji Techno and National Optical. Most orders are shipped the same day.
In terms of support, the review cited both the Live Chat feature and telephone service. The company offers the increasingly rare feature of live telephone service throughout the working day from 8am-8pm EST in addition to Live Chat from 9am-5pm. Both services are staffed by in-house, full time customer service reps with appropriate microscopy knowledge.
In addition, their new website, http://www.microscope.com, launched in October last year added some helpful features such as the innovative Microscope Selector wizard. The Selector offers a series of simple steps for a customer to find a microscope to meet their needs.
"Out of all the microscope stores reviewed," stated TopTenReviews, "we were most impressed with the customer service and selection offered by this site…." In closing, the review summarized the site as follows, "The customer service is absolutely the best and the inventory, support, shipping options, educational discounts and related information on the site make is it a clear winner among the best-of-the-best online microscope stores."
Charles Crookenden, the President & CEO of Microscope.com commented, "We were delighted to receive our first review back in 2009, so you can imagine how proud we are to have won this award for the fifth time. It is an increasingly competitive microscopy market and this award justifies all our hard work over the year. In particular, it is a wonderful testament to the efforts of each and every employee, all of whom go out of their way, every day, to ensure that our customers are well looked after."
To read the full Gold Award review, visit the TopTenREVIEWS.com website.