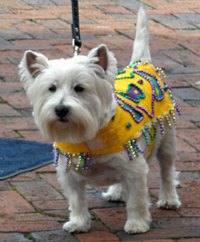 Destin, FL (PRWEB) February 06, 2013
Destin, Florida is well-known for its relaxed beach personality and laid-back vibe. However, February 8-12 of 2013 Destin will wear a mask of glittering green, gold and purple to show off her wilder side. Mardis Gras parties and parades are planned at several locations around town each boasting a unique twist on the traditional celebrations.
Harborwalk Village on the Destin Harbor is planning quite a memorable celebration lasting several days. Friday the 8th will see a new Orleans style pub crawl complete with stilt walkers, the Village Brass Band, colorful costumes, jugglers and more. It requires a 10$ arm band to get into the village but the proceeds benefit The American Cancer Society and armband wearers receive drink specials. Saturday the 9th will feature a huge parade will all the trimmings – bead throwers, fire spinners, street performers and free admission. Then on Sunday the Dizzy Dukes will be performing on the main stage starting at 2:00.
In the heart of Destin at the Destin Commons on February 8th festivities will include live music, a Cajun boil, arts and crafts, face painting, street dancing, a magic show and a fireworks finale. Admission is free. Finally on the east end of town at the Village of Baytowne Wharf there will be a parade to really howl about. Sunday February 10th will host the 10th Annual Mardis Gras Dog Parade with the theme " Tail-gates and Touchdowns: Paw-ty in the End Zone". It's free to attend but any donations benefit the Alaqua Animal Refuge. To end it all, the Baytowne Mardis Gras Bash Parade will roll through the Village on February 12th. Colorful floats, golf carts, and pick-up trucks will roll down the streets as marchers dressed up in their Mardi Gras best shower parade-goers with a barrage of beads, moon pies, and other trinkets.