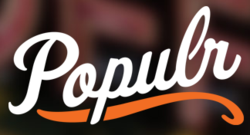 Heather was looking for a new perspective and we were looking for someone who had organic connections to the business community in Nashville and abroad
Nashville, Tennessee (PRWEB) February 05, 2013
On February 4, 2013, Heather McBee was named Senior Communications Strategist for Nashville start-up, Populr.me. The move to Populr.me follows her recent departure from Sony Music Nashville where she helped foster the careers of such artists as Kenny Chesney, Martina McBride, Carrie Underwood, Brad Paisley, and many more.
Her role at Populr.me will be to help grow the corporate usage of the newly created micropublishing service.
"Heather was looking for a new perspective and we were looking for someone who had organic connections to the business community in Nashville and abroad. We needed a broad business thinker with a technical mind and she presents the perfect blend of both," according to Nicholas Holland, CEO and founder of Populr.me.
McBee's technical experience comes from having helped Sony Music Nashville make the transition into digital music distribution in the mid and late nineties and growing their artists' exposure in social media, mobile distribution and website marketing. Her thorough understanding and early adoption of digital distribution helped Sony and many of it's artists grow and succeed in the digital space.
Populr.me is a new Nashville start-up that provides an online micropublishing solution.
Individuals and businesses needing to communicate more effectively can use Populr.me to create impactful published one-pager's, also referred to as Pop's. Pop's can range from being very basic online memos to very advanced interactive presentations where collaboration is welcomed. Tracking views and clicks, sharing on social networks and collaborative builds and management are just a few of the key components a Populr.me Pop can deliver.
Visit http://www.Populr.me for additional information.