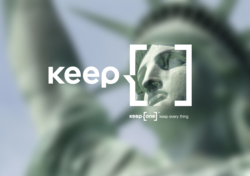 KeepOne is a second brain for projects and passions - simple, intuitive and functional all in one.
(PRWEB) February 05, 2013
KeepMarklet users can easily save things like an Amazon book review, an eBay product summary, Vimeo video clips, Youtube playlists, Pinterest images, articles to read later and the likes. To discover KeepMarklet outstanding features suffice it to select part of a web page or service, and use a mouse to choose a specific zone to save. Users may experience a new quality of intuitive bookmarking simply by hovering over something or by using the scroll wheel. A chosen selection will be instantly saved in a collaborative collection on KeepOne where each will be able to comment, like and share it. Difficult to make it any easier.
People, especially who use the Internet intensively, often feel overwhelmed by information in a multi-channel world. They can no longer cope with the flow of it and miss even more important things. Due to that they need good ways of saving, organizing and sharing what they find through online channels. Using browser bookmarks, emails and other popular online services to save and share contents stay unhandy and still complicated. Thus KeepMarklet was launched to solve this problem making KeepOne service even more effective and user-friendly.
KeepOne facilitates saving in a really smart way the relevant data from the web: pictures, videos, links. The service enables collecting and organizing items about hobbies (e.g. favorite music, films, posters), work (e.g. articles to read), or school (e.g. lecture notes). Its users can create their own collections as well as search for inspiration browsing other people collections, or exploring various categories. From now, also unregistered users have the opportunity to view public content collections and people's update on KeepOne.
KeepOne is the go-to service for saving and sharing the relevant parts of any page or service available on the web. It undoubtedly offers more utilitarian capabilities like those provided by other online bookmarking/note-taking tools, like Pinterest, Delicious, or even Evernote. KeepOne makes the value proposition in a world filled with specialized social services for saving content and search engines that keep track of every page people visit for a limitless searchable history available upon demand. It aims to be a second brain for projects and passions - simple, intuitive and functional all in one.