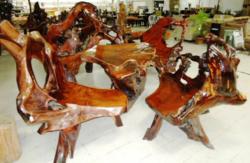 Flint, Michigan (PRWEB) February 05, 2013
Bob Perani's personal unique and unusual collection to be auctioned for two huge days.
Well known throughout Michigan as a hockey inspiration, Bob Perani recently passed away at the age of 69. Perani is known for being a part of the Flint Generals for several years as goalie, as well as owning numerous specialty shops including pizza joints, opening over 18 hockey equipment stores, antique & collectible shops and more. Perani is also known for supporting youth hockey clubs in any way that he could. He has made his impression on Michigan in more than one way and will be truly missed by many.
One of Bob's passions was collecting, primarily from Thailand and the Orient. Orbitbid.com has been commissioned to sell literally thousands of unusual and rare items Mr. Perani collected over the years to fulfill his passion. There is unique art, furniture, statues, general merchandise, sculptures, landscape pieces, antiques & collectibles, etc. These will be in a 2-day online auction due to the amount of items at the two locations. The auctions will be on Tuesday, February 19th starting at 8am (Store Location #1 3600 S Dort Hwy, Flint, Mi 48507) and Tuesday, February 26th starting at 8am (Store Location #2 5402 Hill 23 Drive, Flint, Mi 48507).
More information will be released as the dates approach, but until then, please visit Orbitbid.com or call 866.672.4806 and ask for Kurt Mingerink.
See Orbitbid.com.
# # #
Orbitbid.com, located at 601 Gordon Industrial Court in Byron Center, MI is owned and operated by Sid and Scott Miedema, conducting auctions across North America. The company specializes in real estate, construction, agricultural, industrial, business liquidations, and online auctions.
Contact: Kurt Mingerink, President, Orbitbid.com – A Miedema Auctioneering, Inc. Company
1-800-527-8243; Mobile Phone: (616) 893-4346
Email: KMingerink(at)Orbitbid(dot)com