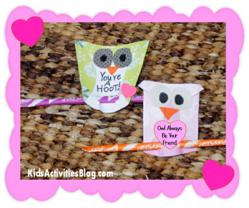 Let the kids make cool Owl Valentines that sit on Candy sticks.
Dallas, Texas (PRWEB) February 07, 2013
Exchanging Valentines cards is a fun tradition for kids. Kids Activities Blog published cute cards that kids can make for Valentines or any other occasion.
Making home made cards is easy and cheaper than buying 40+ Valentines if one has several kids.
Materials needed to make the cute Valentines card owls are printed card stock paper, circle cut outs or googly eyes, and a triangle cut out for the beak. Let the kiddos fold the circles according to the template provided. Glue the eyes and beak to complete the owl, and punch out holes on the bottom for a stick candy.
Help the kids to write a cool owl message on a piece of paper and cut it out. Push the stick candy through the holes to create an owl sitting on a branch and glue the note on top. Ready is the homemade Valentines card.
Another cute idea is turning a kid made collage or toddler scribbles into a creative home made card. Provide the kids with a variety of fabric strips, ribbons, and different colored paper. Let them glue bits and pieces onto a card. Cut out shapes such as balloons or a birthday hat on a card that will be glued on top of the collage. Ready is the adorable home made card that the kiddos will be proud to give to their relatives and friends.
For the complete set of instructions and to get inspired by more cute card ideas, check out Kids Activities Blog during the month of February. Come and get the kids inspired to get creative.
About Kids Activities Blog
Kids Activities Blog is a website created by two moms (who collectively have 9 children), Rachel Miller and Holly Homer from June Cleaver Nirvana. It is their daily goal to inspire parents and teachers to play with kids. This interactive website publishes simple things to do with kids twice a day. Kids Activities Blog is a great tool for moms and teachers to find kid-friendly activities that create memories and sneak learning into the fun.