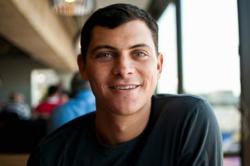 My goal is to motivate travelers and show them the best ways to travel without having to win the lottery
New York, NY (PRWEB) February 05, 2013
ExpertFlyer.com®, the premier online air travel information tool, which now offers its award-winning Seat Alerts® feature free to all travelers, recently sat down with travel expert, blogger, and author Matt Kepnes during its monthly One-on-One interview series with leading travel experts and executives. Known to his readers and followers as "Nomadic Matt," Matt Kepnes has navigated the world for more than nine years with nothing more than a backpack, a few bucks in his pocket, and the ambition to work odd jobs along the way to help subsidize his adventures. While many travelers may not have the same concept of "budget travel," the experience and wisdom he collected during his journeys can certainly apply to anyone who simply wants to maximize their travel budgets.
During his interview with ExpertFlyer, Matt Kepnes shared some of his secrets for traveling the world without breaking the bank, such as flexibility in travel dates; using airline branded credit cards to get free miles; staying in guesthouses as opposed to hotels and why being loyal to your loyalty programs may not always be a good idea.
"My goal is to motivate travelers and show them the best ways to travel without having to win the lottery," Matt Kepnes explains. "Travel doesn't have to be expensive and taking long-term trips doesn't mean you need to wait until retirement, quit your job, or uproot your entire existence. It can all be managed effectively if you know how to do it properly."
"Matt does a great job on his blog explaining to travelers how they maximize their travel budgets without sacrificing the travel experience," explains Chris Lopinto, president and co-founder of ExpertFlyer.com. "While many travelers enjoy some of the luxuries associated with traveling, even they can learn how to maximize their budgets too. Oftentimes, managing your time and travel expenses is part of the adventure."
To read the entire interview with Matt "Nomadic Matt" Kepnes, please visit ExpertFlyer's blog.
About Nomadic Matt
In July 2006, Matt Kepnes left the cubical forever and started an adventure around the world which as intrigued and inspired readers all over the world through Nomadic Matt.com. Five years later Matt has traveled to more than 60 countries and flown countless miles establishing himself as a true travel expert. Today, Matt is working on books, media interviews and speaking engagements, spreading his knowledge and experience on travel to current and aspiring travelers worldwide.
About ExpertFlyer.com
Each month, ExpertFlyer's One-on-One blog goes face-to-face with the travel industry's leading decision makers to discuss and address topics relevant to many of today's business and frequent travelers.
ExpertFlyer.com was conceived and created by an eclectic team consisting of a veteran elite tier frequent flyer, an airline captain and corporate travel manager, and information technology professionals to deliver a 24/7 real time powerful air travel information service. The company provides its subscribers and corporate travel managers alike with a complete, concise and efficient way to access the ever-changing details of worldwide air travel information. For more information, please visit http://www.expertflyer.com.
# # #