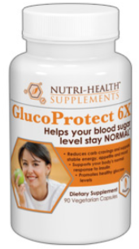 At Nutri-Health, we're committed to helping people realize healthier, more active lives.
Cottonwood, Ariz. (PRWEB) February 06, 2013
Nutri-Health® Supplements L.L.C., a leader in the nutritional supplement industry for over 20 years, is proud to announce their sponsorship of "Lookin' Good Cottonwood" presented by the City of Cottonwood, AZ. Lookin' Good Cottonwood is a 3-month weight loss challenge that kicked off on January 21, 2013. At the end of the competition, prizes will be awarded to the contestants who achieve the greatest percentage of weight loss.
As part of their sponsorship, Nutri-Health has donated 100 bottles of its GlucoProtect 6X formula to help participants support healthy blood sugar as they work towards achieving their weight loss goals. The winner of the competition will also be awarded a supply of GlucoProtect 6X.
"Research shows that nearly all women and seventy percent of men are plagued by sugar cravings," says Tom Callahan, President of Nutri-Health. "These sugar cravings can often lead to excess calories and weight gain. GlucoProtect 6X is a combination of natural, researched ingredients that help prevent sugar spikes and curb food cravings. It's the perfect complement to any weight loss program and a must-have for anyone with blood sugar concerns."†
In addition to their donation of GlucoProtect 6X, Nutri-Health also has a team of 15 employees competing in the program. "At Nutri-Health, we're committed to helping people realize healthier, more active lives. We're proud to partner with the City of Cottonwood to help its citizens achieve a healthy weight and wish all of the contestants good luck in their efforts", says Callahan.
† These statements have not been evaluated by the FDA. These products are not intended to diagnose, treat, cure or prevent any disease.
About Nutri-Health® Supplements
A business unit of Atrium Innovations Inc. (TSX: ATB), Nutri-Health Supplements, L.L.C. has made new ingredient technology, expert nutrient blends, and current consumer health concerns their company focus for over 20 years. Nutri-Health is committed to bringing innovative nutraceuticals backed by clinically researched ingredients to the marketplace. To view the complete Nutri Health® Supplements product line, visit the company's website at http://www.nutri-health.com. Products can be ordered via the website or by phone toll-free at 800-914-6311.