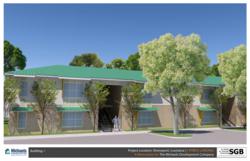 $11.4 rehabilitation includes interior and exterior improvements and green building components.
Shreveport, LA (PRWEB) February 05, 2013
WHAT:
The Mayor of Shreveport Cedric B. Glover will be among the dignitaries joining the Shreveport Housing Authority and its private sector development partner, The Michaels Development Company, and residents of Cypress Landing to mark the start of the revitalization of one of Shreveport's most important affordable housing communities. A ceremonial groundbreaking will be held at the Cypress Landing site (formerly known as University Oaks) on Tuesday, Feb. 26, at 10:00 a.m.
WHEN:
Tuesday, Feb. 26, 10:00 a.m.
WHERE:
Cypress Landing, 4715 Shreveport Blanchard Highway, Shreveport, LA 71107
DETAILS:
Located on the corner of Hilry Huckaby and Martin Luther King Jr. Drive just steps away from the South University of Shreveport, Cypress Landing has provided much-needed affordable housing to Shreveport families with low and moderate income for decades. First constructed in the 1970s, however, the community has suffered from age and outdated building systems, and the redevelopment of this rental community and its surrounding neighborhood has been a high priority for the city and the Housing Authority. Now, with support from the city as well as equity raised from the sale of federal Low Income Housing Tax Credits, Cypress Landing will be "reborn for the 21st Century," through a significant rehabilitation that includes interior and exterior improvements, as well as energy-saving "green building" components. The start of the $11.4 million update will be celebrated with a ceremonial groundbreaking expected to be attended by local, state, and federal officials as well as Cypress Landing residents and other neighborhood stakeholders. The new mixed-income Cypress Landing community will serve Housing Choice voucher holders as well as market-rate residents.
About the Shreveport Housing Authority
The Housing Authority of the City of Shreveport was established in 1940. The HACS is governed by a five-member Board of Commissioners and is responsible for overseeing the management of nearly 4,000 housing units scattered throughout the City. Its vision is to create and cultivate opportunities for program participants to achieve self-sufficiency and economic independence by providing affordable housing, employment training and opportunities, educational programs, and access to community resources.
About The Michaels Organization
The Michaels Development Company is part of The Michaels Organization, a family of eight integrated but independent companies dedicated to excellence in affordable, mixed-income, military, and student housing. Our mission is to create attractive residential communities for families, seniors, military service members, and students that stand the test of time and that are managed to maximize long-term value for residents as well as investors. Serving more than 100,000 residents in 340 communities across 33 states, the District of Columbia, and the U.S. Virgin Islands and with a development portfolio valued in excess of $3 billion, The Michaels Organization is a national leader in the residential real estate industry, with full service capabilities in development, property and asset management, construction, mortgage finance, and tax credit syndication. Visit http://www.TheMichaelsOrg.com for more information.