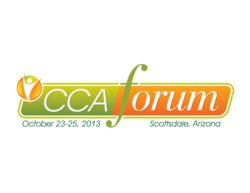 "Judging by the number of inquiries we have received since opening the call for proposals on January 31, I can tell that it will be very competitive. And that's exactly how we want it."
Washington, DC (PRWEB) February 04, 2013
The Care Continuum Alliance, the voice of the population health, began accepting presentation proposals for its annual conference, CCA Forum 2013, to be held October 23-25, in Scottsdale, Arizona, with the theme, The ROI of Population Health: Implementation Matters.
CCA Forum 2013's call for proposals maintains several of the conference's trademarks, such as a juried competition for its prized industry awards, a rigorous peer-reviewed process, and a no "pay-for-play" pledge. But this year, everything else is different.
"We heard our membership and attendees' ideas and needs and decided to revamp our offerings to meet them," said Fred Goldstein, CCA interim Executive Director. "We are an industry in the midst of rapid change, innovation and growth. Our annual conference needs to reflect that by being more welcoming to population health new comers, showcasing groundbreaking programs and making explicit how research and solid data underpins our industry."
The CCA Forum 2013 program committee moved away from pre-set tracks in favor of an open call for proposals. Each submission will be peer reviewed by the committee, which will then curate a program that best responds to the conference focus of demonstrating the Return on Investment of population health management.
Individuals can submit a proposal for a session in the format of an engaged presentation, workshop, working session, panel session or poster, as well as abstracts for the 3rd International Symposium of Wellness and Chronic Care.
"We are going for creativity, innovation and inventiveness," said Goldstein. "Our attendees want hands on learning and presentations that can demonstrate their usefulness for the population health management industry as a whole. We particularly encourage partnerships among companies and competitors for the delivery of strong workshops and presentations."
CCA invites its members and all population health stakeholders, researchers, academics, representatives of government entities and others to submit their proposals, online through the CCA Forum 2013, by the deadline, March 6, 2013. Proposals must be original, new and free of commercial content, such as service or product endorsements.
"Judging by the number of inquiries we have received since opening the call for proposals on January 31, I can tell that it will be very competitive. And that's exactly how we want it," said Goldstein.
CCA Forum 2013 will offer an Outcomes 101 Training Institute on Wednesday, October 23 aimed at employers, human resources managers, and new entrants providing population health management solutions.
"Once again, we are responding to a clear industry need," said Karen Moseley, CCA Research Director. "New comers have asked for help demonstrating their outcomes, designing their evaluations and disseminating the results. On the other hand, HR managers and employers are overwhelmed with the many choices, and don't know what criteria to use to make a wise selection or assess their current vendor."
As in the last few years, CCA Forum will hold the International Symposium on Wellness and Chronic Care, on Friday, October 25, and is encouraging submissions from organizations and companies from around the world, with a focus on wellness, prevention, chronic condition management and other population health strategies.
In 2012, CCA annual conference convened 800 plus industry leaders, who heard from notable speakers such as Jay Walker, TEDMED curator and chairman and Joseph F. Coughlin, PhD, Director of the Massachusetts Institute of Technology AgeLab.
Learn more about CCA Forum 2013.
Read the CCA Forum 2013 Call for Proposals.
Watch videos of The Forum 12
# # #
About the Care Continuum Alliance
The Care Continuum Alliance represents more than 200 organizations and individuals and aligns all stakeholders on the care continuum toward improving population health. Through advocacy, research and education, the Care Continuum Alliance advances strategies to improve care quality and outcomes and reduce preventable costs for the well and those with and at risk of chronic conditions. Learn more at http://www.carecontinuumalliance.org.