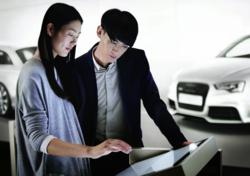 "It has become unimaginable to contemplate the point of sale without interactive content..." says Hans Thurner, Director
Munich, Germany (PRWEB) February 04, 2013
In order to offer Audi customers an interactive 3D product experience, RTT was involved from the technical and creative planning phase, through to implementation. In this context, RTT placed great emphasis on aligning digital technology trends with users' preferences – such as the interaction with the life-size digital vehicle models. The first metropolitan store of this kind was opened July 2012 in London.
The possibilities of 3D visualization create new opportunities for personalized customer dialogue and product interaction. The core component of Audi's digital metropolitan showroom is the realtime configurator, which uses multi-touch tablets to project 3D contents onto life-size screens or so-called "powerwalls". In doing so, visitors can configure their dream car and view details such as the in-terior, materials or individual components.
"It has become unimaginable to contemplate the point of sale without interactive content. Our customers appreciate the nearly unlimited variety of combinations and the digital brand experience that 3D visualization facilitates," says Hans Thurner, Director Brand Innovations, AUDI AG. "For the second Audi City site in Beijing, we have again expanded our technical and creative playing field, allowing Audi once more to emphasize its innovation-driven vision," says RTT AG board member, Roberto Schettler.
The computer generated assets for Audi City Beijing, over 1,700 films and more than 1 million images, as well as the 3D master models, were created by RTT using their core software RTT DeltaGen. Virtual reality was brought to life by especially developed interaction and projection technologies, in close cooperation with the Audi City project team and the project partners.
Since 2008, the Ingolstadt-based carmaker with the distinctive four rings has worked with RTT, enabling numerous synergies of the realtime configurators already implemented and deployed at Audi showrooms across the globe.
For further information, please visit http://www.rtt.ag/en/work/references/ or http://www.audi.com/cn/brand/en/experience/audicitybeijing.html.
About RTT
RTT is the leading, one-stop-provider of high-end software, consulting and creative ser-vices in professional 3D visualization. As a strategic partner, RTT offers sustainable, effec-tive and seamless process support across the entire product lifecycle with its holistic ap-proach. As a result, products are developed faster and more cost-effectively while time-to-market is significantly reduced. Through creative, photorealistic CGI implementations, RTT enables innovative sales and marketing advantages and new dimensions of emotional brand staging. The Group´s customer-base includes companies like Adidas, Audi, BMW, EADS, Electrolux, Ferrari, General Motors, Harley-Davidson, Porsche, The North Face and Volkswagen. RTT AG was founded 1999 in Munich and has grown to about 700 employees at 14 offices worldwide (as of December 31, 2012). For more information, visit http://www.rtt.ag.