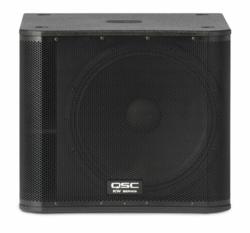 "[The QSC KW181 is] Pro gear! Spend the dollar one time and buy the best!" – Michael, AMS Customer
(PRWEB) February 15, 2013
Musicians are constantly preoccupied with the sound they want their audience to hear when they are up on stage. Band mates must be capable of creating an equal blend between all members of the band, and be able to cut through the mix when the music calls for it. For this, technology often offers the best solution and QSC Amps are a luxury that all musicians likely hope to afford with their unprecedented mix of quality and features. However, with 12 Easy Payments from AMS more musicians have the chance to get the amplification they seek without blowing their monthly budgets.
The impact of the QSC 12 Easy Payments for February can be seen below using the QSC KW181 Loudspeaker Powered PA Subwoofer as an example.
AMS Price of QSC KW181: $1,399.00
AMS 8-Month Payments: $174.88
AMS Limited-Time 12-Month Payments: $116.58
Working musicians living on a budget can lower their monthly payment by $58.30 over the standard 8-payment option with this special event from AMS. That's a substantial amount of money that can be used for other musical purposes or even living expenses. It is difficult to imagine an easier scenario for bands to acquire the QSC Speakers they have had their eyes on in the past, but have required too much of an investment to justify purchasing.
Musicians shouldn't limit themselves to the quality of equipment that they can afford, but get the equipment that will take them as far as their creativity and talent will allow. Musical artists shouldn't wait and let these payment options on QSC, Ampeg, Martin, Mackie, and Stanton pass without considering the impact that these products could have on their music. For more information on QSC products and more, or Easy Pay plans from AMS please visit the American Musical Supply website.
###
Located in Oakland, New Jersey, American Musical Supply is a leading online merchant of professional and affordable musical equipment and supplies including guitars, amplifiers, live sound, DJ gear and more. AMS offers award-winning customer service and the AmericanMusical.com website has also been ranked in Internet Retailer's top 500 e-retailing businesses.