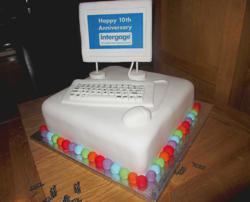 We have had experience with working with SMEs for well over a decade now.

And when it comes to marketing, what they really need is a partner. They need strategic solutions.
(PRWEB) February 12, 2013
Digital marketing agency Intergage is embarking on a new era as it celebrates the brand's 10th anniversary.
Over the last decade Intergage has evolved from a software house to a digital marketing company to a strategic marketing partner.
Companies are now calling on Intergage to provide complete online and offline strategic marketing solutions.
Managing Director Paul Tansey said: "We have had experience with working with SMEs for well over a decade now.
"And when it comes to marketing, what they really need is a partner. They need strategic solutions.
"We look into the whole marketing problem – not just digital. We are increasing our focus on strategic marketing, delivered by high calibre people in client-facing roles."
Intergage has well over a decade of experience. Although the brand is 10 years old, the business has been in existence for 13 years.
Intergage celebrated its 10th anniversary on the 1st February 2013. The customer-centric agency originated in 2000 as Creative Sales Solutions, re-branding in 2003.
The last decade has seen Intergage grow from a web content management provider into a full service agency through the growth of its web marketing team and acquisition of Tasty Marketing.
Intergage can now meet the needs of clients in all areas of marketing – from online to offline – thanks to its growth and diversification.
Clients are enjoying greater return on their marketing investment as Intergage delivers great results in services including:

Customers can look forward to ever expanding, innovative services from all the experts within Intergage as the company continues to grow and evolve.
Ninety per cent retention and 178 client recommendations are just two of the indicators of the great service that Intergage has provided to its clients over the past decade.
Mr Tansey said: "Ten years on and we are stronger than ever at Intergage. We have developed our service offering into profitable new areas for our clients.
"Ten years is such a great milestone to achieve, everyone involved at Intergage is really buzzing about it.
"It demonstrates to our clients what a great job we do here and how passionate we are about seeing our clients meet their goals," he added.
Intergage experts enjoy dealing with market changes and are actively engaged in finding new potential growth areas for clients.
Combining highly accountable digital marketing with the tried and tested benefits of traditional marketing has become an increasing focus for Intergage following its acquisition of Tasty last year.
Tasty Business Development Director Emma James said: "It's been great to partner with Intergage. We can now offer a full marketing service covering everything from offline marketing to social media.
"Our clients can see the real value of this partnership and have benefited from it. At Intergage and Tasty, we are experts at what we do and our clients recognise and appreciate this."
Intergage has a unique service offering and can provide different solutions for various client needs such as:
full outsourcing of online and offline marketing services to Intergage's specialist teams
consultancy and training to help clients improve their in-house marketing operations
mentoring – Intergage works closely with clients following consultancies to help them meet their targets.
Intergage values its relationships with clients and believes that active involvement throughout the partnership process helps to generate better results.
To learn more about how Intergage can boost marketing ROI, pleasecontact Marketing Manager Emma Barrow on 0845 456 1022.
About Intergage
Intergage Ltd is the complete marketing partner, a leading digital marketing agency that continues to expand and recruit the brightest staff. It currently has two offices in Poole, Dorset and Chandler's Ford, Hampshire.
All Intergage services have a clear focus on providing their customers with a return on investment from their Web marketing.
Intergage Web marketing services include:
designing and building websites that enable clients to manage their own content using the unique Intergage Content Management System (CMS)
planning and managing Search Engine Optimisation (SEO), Pay Per Click (PPC) advertising, Digital PR and Social Media Marketing needs to ensure your site receives and successfully converts a steady stream of customer enquiries
comprehensive Web marketing training to empower you and enable you to manage SEO, PPC, Social Media and the Intergage Content Management System.
Intergage is committed to a long-term relationship with each and every client and is constantly seeking ways to improve your website results.
Intergage boasts more than 350 clients. Having started the business 13 years ago, Directors Paul and Gareth Tansey are proud to have retained at least 90 per cent of clients year on year.
For more information about Intergage, any of the services it provides or just to have a friendly chat with a team member, please contact Marketing Manager Emma Barrow on 0845 456 1022.
Intergage Ltd (Dorset & Head Office)
Unit 8, Holes Bay Park
Sterte Avenue West
Poole
Dorset BH15 2AA
UK
Tel: 0845 456 1022
Tel: +44 (0)1202 684009
Fax: +44 (0)845 456 0722
Intergage Ltd (Hampshire Office)
3a Westlinks
Tollgate
Chandlers Ford
Hampshire SO53 3TG
UK
Tel: 0845 456 1022
Tel: +44 (0)23 8064 7005
Fax: +44 (0)845 456 0722