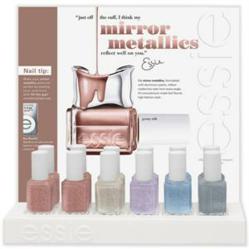 We have enjoyed very healthy growth in demand and sales for our full range of Nail Art decals, particularly as we approach Spring and Summer
(PRWEB) February 06, 2013
eNail Supply are enjoying unprecedented popularity amongst beauty professionals and the public, a recent customer survey revealed. The sales figures are growing month on month and it seems their customers cannot get enough of their favourite products for hands, feet and nails like the popular nail decals, nail art stickers and nail art pens two sided which customers flock to them for. Nail decals are more popular than ever and eNail Supply are basking in the glory of that popularity.
eNail Supply announced that sales of their most popular brands of nail polish and nail decals had risen dramatically over the last year and they are predicting the same level of growth this year.
Sudeep Arya, CEO of eNail Supply said, "We have enjoyed very healthy growth in demand and sales for our full range of Nail Art decals, particularly as we approach Spring and Summer. I am happy to report that business is good for all our products but there are particular brands which always stand out as the most popular. Seasonal and fashion changes can have an effect too."
eNail Supply retails beauty products to professionals and the public, supplying them with top quality branded beauty products for hands, feet and nails. While many companies are being careful and cutting back, eNail Supply are enjoying business growth and popularity amongst their customers.
"Our customers are interested in choosing from the full range of Nail Art decals, Nail Art stickers and Nail Art pens two sided. All we need to do is make sure everything is available for them at excellent prices so they save money too." Mr Arya went on to say. "We can tell when our customers are happy with our service because the sales go up, and they tell us. We have regular customer surveys so we can stay in touch with what they want and how they think we are doing. Customer service is so important to us. We are sure that is why they appreciate us and continue to show loyalty to us."
eNail Supply use these customer surveys to record feedback. The Beauty Advisors talk to the customers they serve, telling them about new products and colors and keeping them up to date with the latest fashions and beauty nail techniques.
The website too has instruction videos showing customers how to apply their products. All these extra special services help the company to stay on top and help them to keep an eye on their customers' favorites like nail decals, nail art stickers and the essential nail art pens two sided. Business looks like it will continue to improve for eNail Supply, especially when their customers are voting them top.
About Us:
eNail Supply supplies professional and salon-quality beauty products for the hands, feet and nails. It stocks a huge rand of brands including Essie Nail Polish, Nail Art, Artistic Color Gloss and Gelish for shipping worldwide. eNail Supply supplies to licensed nail technician, aesthetician, depilatory professionals and beauty consultants as well as regular shoppers. It offers worldwide delivery and complimentary help and advice from a team of qualified technicians.