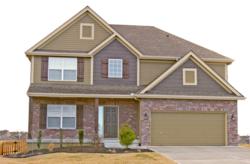 Our team has shown extraordinary dedication to Ft. Leavenworth's military families.
Marlton, NJ (PRWEB) February 06, 2013
The Professional Housing Management Association (PHMA), an international organization promoting excellence in housing management, has named Fort Leavenworth's Frontier Heritage Communities as the United States Army's Outstanding Housing Team (Privatized Location) of the Year. Michaels Military Housing is the army's private sector development and management partner for the family housing on Fort Leavenworth.
The prestigious award recognizes the overall quality of on-post housing as well as the success of the management operations, as seen through such measurable results as resident satisfaction and occupancy rates. In addition, award winners must have demonstrated an unwavering commitment to community outreach and support programs for military personnel and their families.
"Our team has shown extraordinary dedication to the military men and women and their families who call Fort Leavenworth home," said Ronald Hansen, president of Michaels Military Housing. "We are honored that Michaels' partnership with the U.S. Army to provide best-in-class communities, property management, and community services at Fort Leavenworth has been recognized with this award."
Comprised of 19 neighborhood villages and home to more than 3,000 people, Ft. Leavenworth is among the most complex management assignments within the military housing privatization program. When the nine-year development period is complete in 2014, Michaels Military Housing will have demolished 692 homes, constructed 708 new homes and renovated 588 homes, including some of the Army's most historically significant housing.
In an innovative development strategy for the $392 million project, Michaels hired a small local homebuilder to construct homes in several of the new neighborhoods. This strategy not only helped constrain construction costs, but offered good paying, high quality construction jobs to local residents. Most importantly, military families and enjoy on-post homes just like those in the local market—only better because they are customized for the specific needs of military families.
The new homes are just a part of making Ft. Leavenworth the "best hometown in the Army," says Hansen. A variety of events, from parades to cooking classes, fosters a sense of community and helps residents "create lasting memories" of their time living on post. In addition, Michaels has a deployed spouses program, offering extra care and services for any family currently experiencing a deployment.
In announcing the 2012 awards, the PHMA noted that award winners like the Ft. Leavenworth housing team "serves as a catalyst in inspiring housing professionals and their organizations to build and revitalize for the future," and that they exemplify PHMA's Vision and Mission to contribute toward better quality housing for military members and their families.
About Michaels Military Housing
Michaels Military Housing is part of The Michaels Organization, a family of eight integrated but independent companies dedicated to excellence in affordable, mixed-income, military, and student housing. Our mission is to create attractive residential communities for families, seniors, military service members, and students that stand the test of time and that are managed to maximize long-term value for residents as well as investors. Serving more than 100,000 residents in 340 communities across 33 states, the District of Columbia, and the U.S. Virgin Islands and with a development portfolio valued in excess of $3 billion, The Michaels Organization is a national leader in the residential real estate industry, with full service capabilities in development, property and asset management, construction, mortgage finance, and tax credit syndication. Visit http://www.TheMichaelsOrg.com for more information.