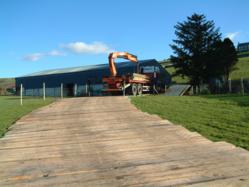 We are delighted that our timber mats enabled this work to be carried out helping to keep the West Coast Main Line in good working order
(PRWEB UK) 6 February 2013
Ground protection solution providers, Timbermat Ltd, supplied SFI certified (Sustainable Forestry Initiative) Oak mats to provide site access when Network Rail needed work carried out on their embankment stabilisation scheme by civil and ground engineering contractors.
Network Rail wanted to install a soil nailing system, a new access walkway and embankment drainage on land adjacent to Down Main embankment off Gubberford Lane, Marston, Lancashire.
The contractors needed stable ground in order to carry out the work over 12 weeks and hired 150 metres of European Oak timber mats; Timbermat's installation team successfully completed the roadway safely and on time. 'We are delighted that our timber mats enabled this work to be carried out helping to keep the West Coast Main Line in good working order," said Colin Ryder, Timbermat's' Operations Manager.
Iain Harrop, a spokesperson for the contractors said, access restrictions prevented the excavation of the existing site to install a stone site access road. The site, a combination of grassed and soiled land bordered private residential gardens and a grassed field, and in patches ground conditions were wet under foot.
"We believed that Timbermat offered the best product, service and value for money for our requirements," said Mr Harrop. "The timber mats were best suited to our requirements for the approach to get heavy plant and equipment to our work site areas. The mats provided a stable platform for our plant and equipment to access the work areas without excavating and installing a traditional stone access road. The contract was completed without delay and the installation of the matting aided this."
"Timbermat provided a good product for our needs and its staff were knowledgeable and helpful before, during and after installation."
For more information contact Timbermat on 0161 442 3157 or visit the website http://www.timbermat.co.uk
Since 1992, Timbermat has successfully grown into one of Great Britain's largest suppliers of temporary access solutions including temporary roadways and walkways, carrying probably the largest stock availability throughout the UK.
Timbermat's ground protection mats are properly tested and certified, meeting new EU regulations. Timbermat Ltd is FSC Certified and the company's importer is FSC (Forest Stewardship Council), PEFC (Programme for Endorsement of Forest Certification) and SFI (Sustainable Forestry Initiative) registered.
Timbermat Ltd's knowledge of temporary portable wooden roadways and excavator mats means they attract customers from nearly all of the country's top civil engineering and construction companies and makes them experts in their field. Their specialists are willing to give advice to your readers.