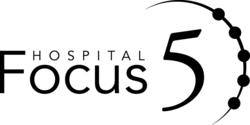 Our Board, Administrative Staff and I personally believe that this work with Hospital Focus 5, which we are calling Navigating To Excellence, will help to make us great.
(PRWEB) February 07, 2013
The new agreement has Hospital Focus 5 guiding Carteret General Hospital in the development of a unique implementation plan to improve communication, staff engagement, quality, productivity and cost effectiveness. This plan combines the Hospital Focus 5 methodology with the work already accomplished by the hospital. The methodology becomes the way work is accomplished on every shift, in every department every day.
Ken Bast, founder and CEO of Hospital Focus 5 stated that "Hospital Focus 5 exists to provide the framework, methodology and implementation of the foundational transformation needed for real long-term operational improvement. One issue is that organizations often do not know how to organize and work together to tap into staff expertise in a systematic, sustainable way. Our process generates meaningful communication and idea flow from the bottom up from all employees, but within a structure that supports directed performance targets and goals from the top down. It transforms how work is accomplished every day in every department of the hospital."
Dick Brvenik, CEO of Carteret General Hospital said "Carteret General is an excellent Hospital that has produced wonderful results while serving its community over the years. Our Board, Administrative Staff and I personally believe that this work with Hospital Focus 5, which we are calling Navigating To Excellence, will help to make us great. By standardizing a routine operating model for all our departments, fully engaging our staff and seeking benefits from the creativity and brain power of each individual, we will accelerate improvement and produce results that will truly distinguish this Hospital."
The Hospital Focus 5 methodology addresses issues through

A unique, focused, systematic, written plan developed by Carteret Hospital leaders with the consultant's active participation and guidance.
Involvement of all employees in customer service improvement such that outcomes improvement becomes part of their everyday job.
Top-down, cross-organizational teams focused on strategically important issues and bottom-up departmentally based teams focused on improvements in their work areas.
Utilization of trained Process Facilitators to make sure the process itself succeeds and grows in sophistication over time.
The establishment of facts and measures to create baselines and evaluate success.
A proven, experience-based process to defining and then managing the hospital culture towards ownership, accountability and quality improvement.
Carteret General Hospital
Carteret General Hospital is a 135-bed acute care hospital serving Eastern North Carolina with a staff of 1000 committed to excellence in quality and service for residents of the region. The Hospital offers a full range of acute care, diagnostic and outpatient services at a level that you would only expect at a larger facility. For additional information about Carteret General Hospital, where Our Mission Is Your Health, visit the website at http://www.carteretgeneral.com.
Hospital Focus 5
The Focus 5 process puts into place the dynamics to ensure positive cultural transformation and its subsequent quality, staff engagement, efficiency and effectiveness gains by getting hospitals and hos to prioritize around:

Quality
Accountability
Strategy
Communications
Growth
Bast stated, "Today healthcare delivery requires a new way of doing business. It will demand a common understanding of the challenges at hand and a fully collaborative strategic and operational workforce to address these challenges." Bast went on to say, "Everyone - board members, physicians, senior leaders and front-line employees must see how their knowledge, skills and behaviors adds to or detracts from the experience of the hospitals' primary focus – patients."
Stressing the idea of achieving measurable accomplishments by focusing on outcomes can result in many good things. Some of them are:
Better patient care
Better quality
Better productivity
Better management
Better communication
Which results in:
Survival & Success!
Kenneth G. Bast
Founder of Hospital Focus 5
Ken has provided operations, re-engineering, change management, strategic planning and quality improvement services to clients throughout the U.S.A. He has utilized his expertise as a hospital CEO, consultant in an international healthcare consulting firm, hospital operations executive and Trauma Network Director to create the philosophy, process and execution of the Hospital Focus 5 methodology
For more information contact:
KENNETH G. BAST, CEO, Hospital Focus 5 at: Bast@HospitalFocus5.com on the web at: http://www.HospitalFocus5.com