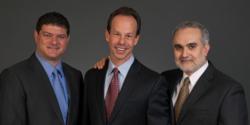 [There is] a history of deficient vehicle maintenance by Scapadas Magicas.
Southfield, MI (PRWEB) February 05, 2013
This past Sunday, February 3, a tour bus operated by Scapadas Magicas LLC went out of control and flipped while carrying passengers to Tijuana, Mexico. The Truck Accident Attorneys Roundtable of the Fried, Gursten & Leizerman Law Firm has investigated and found a strong history of deficient vehicle maintenance for the company. "Our sincere condolences and prayers go out to the families of at least eight people killed and 38 injured yesterday in California," says Leizerman.
An AP news wire article states that Jordi Garcia, the manager the company that ran the trip, told reporters that the bus was filled with people on a skiing trip to Big Bear. "The information that we have is that the bus' brakes failed and the accident occurred," he said.*
"If true, this is not surprising," according to Leizerman. Federal Motor Carrier Safety Administration (FMCSA) records demonstrate a history of deficient vehicle maintenance for Scapadas Magicas. During the past two years, the company's three buses have had a total of 59 violations for federal regulations relating to maintenance of its buses. Nine of these violations were severe enough to be categorized out-of-service, meaning that the violation was so potentially dangerous that the bus could not legally be driven until the problem was fixed.**
The same FMCSA data also reveals most severe violations include power steering violations; inadequate tires and tire tread depth; inoperative headlights, taillights and turn signals; and a July 5, 2012 general brake violation. In the past six months, Scapadas Magicas has been identified in the top quarter of interstate motor carriers in the United States with significant maintenance safety concerns. The FMCSA categorizes Scapadas Magicas with other carriers that have had 21-100 inspections in the past 24 months. The resulting rating of exceeds the FMCSA's intervention threshold, which means the tour bus company was prioritized over other motor carriers for government intervention.**
The law firm of Fried, Gursten & Leizerman operates the Truck Accident Attorneys Roundtable (TAAR). TAAR consists of lawyers who know the trucking industry. Our founding lawyers have experience handling over 600 truck accident cases to settlement or verdicts and have co-counseled with lawyers from around the nation on serious injury or wrongful death cases in 31 states. TAAR founders are national legal authorities on trucking accidents, have been featured in the New York Times, Wall Street Journal, and in dozens of newspapers and television news programs across the U.S.

Associated Press. "Eight dead when California tour bus crashes with pickup truck on mountain highway east of L.A." Daily News, February 4, 2013.
** Federal Motor Carrier Safety Administration United States.
February 4, 2013.