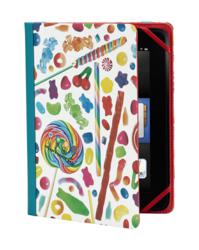 Working with Verso, we created stylish, functional and fun tech accessories that allow our customers to bring our store experience with them everywhere. We are very excited to launch this collection with Amazon.com."
New York, NY (PRWEB) February 04, 2013
How sweet it is. Tastemakers are set to mix and mingle as Dylan's Candy Bar launches its collection of candy-themed consumer electronics accessories in partnership with Verso, a leading maker of device covers and electronic accessories, on Tuesday, February 5th.
Set against the backdrop of the Dylan's Candy Bar New York City flagship store on Third Avenue, the event will blend the tempting combination of sweets, fabulous signature cocktails and the big reveal of the new collection.
"Candy is the center of our world," said Dylan Lauren, founder and CEO of Dylan's Candy Bar. "Our stores use candy as the launching point for celebrating color and style—with chic candy-inspired apparel, jewelry, stationery and spa products. Working with Verso, we created stylish, functional and fun tech accessories that allow our customers to bring our store experience with them everywhere. We are very excited to launch this collection with Amazon.com."
Featuring mouthwateringly delicious patterns of lollipops and gumdrops, the Dylan's Candy Bar covers are designed to fit Amazon's tablets and e-readers, including Kindle, Kindle Paperwhite, Kindle Fire and Kindle Fire HD. The collection is currently available at all Dylan's Candy Bar stores, dylanscandybar.com and Amazon.com.
"We're thrilled to bring Dylan's Candy Bar accessories to the Kindle Store," said Neil Lindsay, Vice President, Amazon Kindle. "We work hard every day to provide great selection to our customers and we're excited to add these colorful accessories just in time for Valentine's Day."
About Dylan's Candy Bar
Dylan's Candy Bar was founded in 2001 by Dylan Lauren with a mission to awaken the creative spirit and inner child in everyone. Renown for merging the worlds of art, fashion and pop culture with candy, Dylan's Candy Bar is a pioneer in changing the way we see candy. As the largest state-of-the-art sweets emporium and candy lifestyle brand, Dylan's Candy Bar is not your average "candy store." The modern day candy land is home to over 7,000 candies from around the world, making it the most popular destination for the ultimate sugar rush experience.
About Verso
Boston based Verso, a registered trademark of LightWedge, creates cleverly designed, uncommonly stylish mobile accessory products that let people get more from the devices they love. The Verso product lines include everything from innovative tablet and eReader covers and accessories to portable speakers and precision-tuned headphones and ear buds. Verso products are available around the world from retail partners including Amazon.com, Best Buy, Barnes & Noble, Staples and Office Max. Visit versostyle.com to see the latest collection of premium mobile accessories.