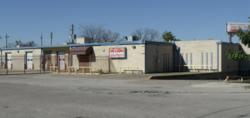 Buyers and seller recognizes the value of using an accelerated method of marketing – in other words, an auction – to buy and sell property
Kansas City, MO (PRWEB) February 05, 2013
United Country – Coleman & Patterson of Bryan/College Station, Texas, will conduct two bank-ordered auctions of a cold storage facility in Houston and almost 23 acres of development in Port Arthur, Texas. This real estate will be offered to the public during both live and online events throughout the month of February.
"Buyers and seller recognizes the value of using an accelerated method of marketing – in other words, an auction – to buy and sell property," said David Coleman, principal, broker and auctioneer with United Country – Coleman & Patterson. "What does this mean for buyers? It means they have the opportunity to purchase real estate at an affordable price. Today's market conditions and the auction format allow sellers and buyers to come to a meeting of the minds quickly with a competitively achieved fair market value. In times like these, an auction is the best way to establish what real market value is."
The live auction will take place Thursday, Feb. 28 on-site at 415 E. Hamilton Street just minutes north of downtown Houston and will feature a 19,429-square-foot cold storage facility. The property offers almost 7,000-square-feet of freezer space, a walk-in cooler, an ice room, production areas, weighing stations, separate shipping and receiving docks, a retail store space, sales offices, conference and lunch rooms, multiple restrooms, asphalt parking and protected iron fencing.
The online auction will commence on Tuesday, Feb. 12 at 10 a.m. and run through Tuesday Feb. 26 at 10 a.m. The property consists of 22.57 acres and is nestled among a planned residential development. It is currently zoned for multi-family.
"These outstanding development acres rest in an area of continued growth in Port Arthur," said Coleman. "I encourage all investors to take a look at this great opportunity to buy from a highly motivated seller at auction prices."
Interested parties can contact United Country – Coleman & Patterson by phone at 979-703-1863 or by email at tom(at)uctexas(dot)com. Their listing and auction inventory for sale can be viewed online at UCTexas.com.
About United Country
United Country Real Estate is the largest fully integrated network of conventional and auction real estate professionals in the United States. The company has been an innovator in real estate marketing since 1925. United Country supports nearly 600 offices across the U.S., Costa Rica, Panama and resort areas of Mexico, with a unique, comprehensive marketing program that includes one of the largest portfolios of property marketing websites (more than 3,000 separate sites and traffic of approximately 3 million visitors per month), multiple United Country real estate catalogs with national distribution , an extensive buyer database and national advertising of local properties that reaches more than 90 million homes per week. United Country has recently been recognized by AllBusiness.com, The Land Report, Entrepreneur and The Wall Street Journal as one of the top U.S. real estate companies.