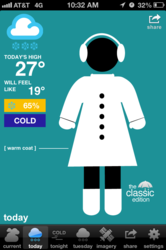 Chicago, IL (PRWEB) February 05, 2013
With over 2,000 onsite Travel Directors in constant transit, Executive Travel Directors (ETD) handpicked these mobile applications to assist their staff in traveling to meeting destinations. Nonetheless, these top 5 apps can be beneficial to anyone who travels for business or pleasure.
1.Swackett® (free)
While mobile devices offer basic weather applications, Swackett® provides more than the temperature and wind chill. Swackett's innovation and fun display feature hourly and extended forecasts, satellite imagery, radar, weather watch and warning alerts, and more. The app even tells users which weather-appropriate clothing to wear making packing for a trip that much easier.
2.iTranslate VOICE ($0.99)
When traveling to a foreign destination, a language barrier can serve as an intimidating obstacle. Nevertheless, thanks to iTranslate VOICE, the days of thumbing through pocket dictionaries are over. Communicating while abroad is made simple as this app listens to users speak words in their native tongues, translates the recorded phrases, and repeats them in one of 36 other languages.
3.Convert Units for Free (free)
The sleek and user-friendly design of the Convert Units for Free app makes currency and other conversions simple. Its real-time currency conversion capabilities convert units of currency with exchange rates that are updated by the moment. The app also offers unit conversions in categories such as speed, distance, temperature, time, volume, weight, etc.
4.Urbanspoon (free)
Many travelers can be apprehensive about straying from the hotel when it comes to finding food options while traveling. However, Urbanspoon provides users with local restaurants and establishments off the beaten path. The app asks for the user location, taste preference, and price range. Everything else (including menu, customer reviews, and directions) is at the user's fingertips.
5. HotelTonight (free)
HotelTonight offers 70% off same-day hotel booking at thousands of hotels throughout North America and Europe. If travel plans fall through or being bound to an itinerary is inconvenient, this app is a trip-saver (and a money-saver too). HotelTonight features also include 24/7 customer support who can be contacted via instant chat within the app itself.
Executive Travel Directors (ETD) is a Chicago-based company providing onsite logistical assistance to business meetings, incentive trips, and medical educational sessions. Since 1988, ETD has operated on respect for meeting planners and the success of their programs. ETD hosts a registry of over 2,000 travel directors and provides staff to more than 5,000 programs annually. For more information on Executive Travel Directors, please visit us at traveldirectors.com.