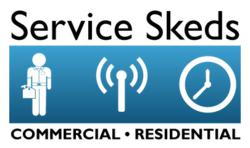 "This partnership...displayed the everlasting benefit of the mobile dispatch software that both companies provide to the industry"
Dallas, TX (PRWEB) February 06, 2013
Service Skeds, the technology leader in Field Service Management mobile software, attended the AHR Expo at the Dallas Convention Center from January 28-30. The expo provided Service Skeds with a great opportunity to further its market image in the HVACR industry. Last year's AHR Expo in Chicago attracted over 58,000 attendees and exhibitors and this year's show in Dallas promised the same turnout. Although Service Skeds is a well-recognized name in the industry, Service Skeds still wanted to display the value of its mobile dispatch software to more companies in the HVACR industry.
At the AHR Expo, Service Skeds exhibited with Callahan Roach. Exhibiting with Callahan Roach allowed each company to bring additional exposure to the two companies. Both companies had personnel at the booth as well as representatives walking around the AHR Expo in order to maximize coverage during the show. "We here at Service Skeds were very excited to share our exhibition and marketing efforts with a prestigious company like Callahan Roach," said Service Skeds president Stephen Chambers. "This partnership benefited both companies and displayed the everlasting benefit of the mobile dispatch software that both companies provide to the industry."
This show is attended by visitors represented by over 130 countries where for three days they get a first-hand look at tomorrow's innovative technology that will be propelling HVACR companies to new heights by helping them meet the market challenges. The AHR Expo was host to nearly 30,000 original equipment manufacturers (OEM), contractors, and engineers all with an eye to greener solutions.
Service Skeds was on hand to display how easy and beneficial it is for companies to make the transition into a paperless world. By adopting the smart phone and tablet applications of Service Skeds companies can perform all phases of business immediately in the field, from quoting estimates to securing payments and everything in between, making a job easier for both company and customer. Attendees will even witness how painless it is to digitize past histories such as customer databases and price books so they do not have to wait another moment to haul those filing cabinets to the curb.
For more information about the benefits Skeds' field service management software provides can be found at http://www.skeds.com. Contact Skeds at sales(at)skeds(dot)com or call 657 444-SKED (7533).