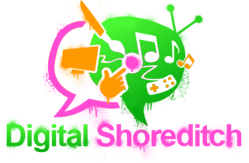 Shoreditch, London (PRWEB UK) 5 February 2013
This year's sponsors include The London Stock Exchange, Ogilvy & Mather, PlayGen, Hackney Council, The Technology Strategy Board, Fried Frank, City University, Taylor Wessing, 'Queen Mary's, University of London,' and Pearson.
Digital Shoreditch'13 will transform Shoreditch Town Hall into an extraordinary digital playground, with a programme that includes talks, workshops, open studios, make & do, parties and interactive public exhibits, drawn from the community. The Town Hall and associated venues will be the space to see, hear, experience and experiment with some of the most celebrated digital companies and projects ever developed in London.
Digital Shoreditch is open to everyone. The call for content will close on Friday February 8th – proposals can be submitted at http://crowd.digitalshoreditch.com
Key themes include: Tomorrow's world, exploring what's next in digital and technology. Future Brands, The next challenges and opportunities in advertising and consumer engagement. Capital & Growth, for raising finance and growing business. Make & Do, the opportunity to hack, jam, think and create digital things with prizes. The Great Digital Exhibit of 2013 – showcasing hundreds of digital companies.
Marcus Stuttard, head of AIM at the London Stock Exchange said "Shoreditch, London and the UK have one of the most vibrant and burgeoning tech start-up sectors in the world. Supporting this sector is vital for economic growth and providing long term sustainable finance to these companies is one of London Stock Exchange's key missions. That's why we're delighted to support Digital Shoreditch and have the opportunity to meet so many talented and exciting entrepreneurs."
"Digital Shoreditch is here to showcase the next generation digital talent of UK, exploring the cutting edges of outstanding creativity in technology. As a not for profit entity with a non corporate agenda, we provide the platform for anyone with a passion to share, to connect with the most switched on individuals across the digital landscape, be they creative, technical, social or entrepreneurial." Said Kam Star, founder of Digital Shoreditch.
"We are delighted to again partner with Digital Shoreditch and to continue our commitment to growing ambitious companies in the community. We recognise these companies as key drivers for the UK economy going forward and this excellent event will offer them great encouragement, bringing in investors, collaborators and experts to help them realise their potential." said Simon Walker, Partner at Taylor Wessing
"We are looking forward to hearing more from the amazing mix of creative, digitally-focused and entrepreneurial people who we know are drawn to Digital Shoreditch. Their interests resonate with ours, and the Festival is a great opportunity for staff and students to share ideas and find opportunities to support fast-growing local London ventures with academic input and business support," said Dr Sue O'Hare, Director of the Enterprise Office. City University of London.
Nicole Yershon, Director, Innovative Solutions, Ogilvy & Mather UK commented: "Our industry needs to be at the cutting edge of innovation across all platforms. Digital Shoreditch provides us with the opportunity to keep up to date on emerging trends and technologies, and network with the amazing emerging businesses this festival attracts."
"I'm really pleased to be back in the thick of the organisation of DS13. Queen Mary, and the research collective that I represent, qMedia, has been involved since the beginning in 2011. Our Media and Arts Technology PhD students and the researchers in the Centre for Digital Music helped make one of the days special last year, and I'm sure we can help make that happen again. Digital Shoreditch is important to Queen Mary, and we're proud to be important to it." Mark Sandler, Queen Mary, University of London
"We are delighted to partner with Digital Shoreditch 2013 to highlight ambitious, creative companies in the community and to continue supporting these companies in achieving their potential, particularly in regard to US expansion" Daniel Glazer, Corporate & IP Partner at Fried Frank
Notes to editors:
1. Contact: http://digitalshoreditch.com
Ella Thiele
Email: ella(at)digitalshoreditch(dot)com
Follow us: @DigiShoreditch
Twitter #: #DS13
42-46 Princelet St, London, E1 5LP
Tel: 020 3151 3140
2. Digital Shoreditch was launched in August 2010, is a not for profit, grass root, industry-led community dedicated to fostering connections and celebrating the outstanding talent in the digital media and technology community flourishing in east London.
The festival in 2012 attracted over 10,000 attendees, 350 sessions and 300 speakers. Since then we have hosted meet-ups and events, attended by hundreds of people and our reputation has grown to one of the most influential community platforms celebrating outstanding creativity and innovation in the heart of UK's premier digital hub. We are ecstatic about the high level of interest and commitment from our diverse community.
3. Call for content closes Friday February 8th. Applicants can apply through http://crowd.digitalshoreditch.com
4. More information and visual media: If you require photos, press interviews and additional quotes please contact us.
London Stock Exchange Group is Europe's leading diversified exchange business. It operates Europe's largest and most liquid equity market with over 500 member firms, holds the number one position in trading ETFs and securitised derivatives, and through its interest in MTS, is the leading platform for the trading of fixed income products. The London Stock Exchange itself is the world's most international exchange with nearly 700 overseas companies from over 70 countries on its markets. It has consolidated this position in the last three calendar years, having attracted 218 international companies which raised over £32 billion between them. These figures include international companies on AIM. AIM, the London Stock Exchange's growth market has become the world's most successful market for small and medium sized enterprises with over 1,500 companies at the end of 2008. In the first 3 months of 2009, AIM companies have raised over £560m.
Taylor Wessing is a leading International law firm with a single-minded approach: to help its clients succeed by thinking innovatively about their business issues. Taylor Wessing numbers around 900 lawyers working across 22 offices in Europe, the Middle East and Asia, offering an integrated service across the full range of practice areas, with core strengths in corporate, finance, real estate, IP and private wealth. The firm also has particular expertise in advising clients in North America, Brazil and India.
City University London is a global University committed to academic excellence, with a focus on business and the professions and an enviable central London location. It is in the top five per cent of universities in the world according to the Times Higher Education World University Rankings 2012/13 and in the top thirty universities in the UK according to the Times Higher Education Table of Tables 2012. The University attracts over 17,000 students (35% at postgraduate level) from more than 150 countries and academic staff from over 50 countries. Its academic range is broadly-based with world leading strengths in business; law; health sciences; engineering; mathematical sciences; informatics; social sciences; and the arts including journalism and music.
Ogilvy & Mather is one of the largest marketing communications companies in the world. In 2012, O&M was named Cannes Lions Network of the Year and Most Effective Agency Network by the Effies Global Effectiveness Index. The company is comprised of industry leading units in all of the following disciplines: advertising; public relations and public affairs; branding and identity; shopper and retail marketing; healthcare communications; direct, digital, promotion and relationship marketing; consulting, research and analytics capabilities; branded content and entertainment; and specialist communications. For more information, visit http://www.ogilvy.com, or follow us on Twitter at @OgilvyWW and on Facebook.com/Ogilvy.
Queen Mary, University of London is one of the UK's leading research-focused higher education institutions with some 16,900 undergraduate and postgraduate students. Amongst the largest of the colleges of the University of London, Queen Mary is a member of the Russell Group, which represents the 24 leading universities in the UK. Queen Mary is ranked 11th in the UK according to the Guardian analysis of the 2008 Research Assessment Exercise, and has been described as 'the biggest star among the research-intensive institutions' by the Times Higher Education.
Fried Frank is a US-based global law firm, with a London office in the heart of Shoreditch, that is committed to helping UK-based companies succeed in the US. The US legal landscape can be complex and unfamiliar, and initial missteps in tax and corporate planning, IP commercialisation and other business arrangements can have devastating long-term effects. Fried Frank helps emerging UK-based companies successfully navigate these early business and legal interactions. Further, as counsel to many of the world's largest companies, investment firms and financial institutions, we are well-positioned to remain a trusted adviser at all stages of a company's evolution