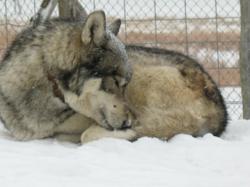 People always make the wolf more formidable than he is. --French proverb
Mayfield Heights, OH (PRWEB) February 13, 2013
While it is true that the My Pack of Wolves Sanctuary's main objective is to provide safe and comfortable homes for wolves and wolfdogs, its second most important goal is education. Via workshops, seminars, demonstrations, and lectures knowledge can be imparted that the wolf is not a "killing machine" or the "big bad wolf". It is a creature struggling to survive and live in this world just like humans and raise its families too without concern of constantly being hunted.
As an example-in one of the seminar teachings-My Pack of Wolves Sanctuary will discuss common misconceptions and myths prevalent in society today. From children's stories like "Little Red Riding Hood" to just about any movie about "werewolves" the idea is to create fear and terror of this animal. As part of the agenda in the seminar and its program, several myths will be explored and their truths told. Some of those myths include the following-
1. Wolves are prone to and will attack humans.
Truth- There have been only 2 documented and proven wolf fatalities on this entire continent in the last 100 years. 1 in Alaska in 2010 and the other in Canada. No documented attack in any other state in the US. The wolf would rather run from human beings than engage in contact. To them, humans are the predator. It is more likely one would get struck by lightening than attacked by a wolf.
2. Cattle ranching is destroyed by wolves attacking livestock.
Truth-Wolves account for 0.2 percent of livestock losses. That isn't even one percent. Many more are killed by disease,respiratory illnesses,bad weather, etc. Even the stray dog killings of cattle account for 0.6 percent. That is more than from wolf attacks. And ranchers have options to protect their cattle from wolf attack such as better fencing, guard dogs, and even riders who patrol.There are states that even reimburse the rancher for loss due to wolf attack.
3. There are too many wolves in the U.S. already.
Truth-The gray wolf-which is the most common to North America-was listed as endangered via Federal Protection until 2010 when it was taken off the list. There are many states that still list them as endangered, however the other states have "wolf management" programs that include trapping and killing along with wolf killing seasons. According to an article in the MPRNEWS -
http://minnesota.publicradio.org/display/web/2013/02/12/environment/wolf-advocates-sue-over-delisting-again
-400 wolves were hunted and killed in one killing season alone.
Through education the perceptions and realities of the wolf and its legend can be changed and promoted with the truth. My Pack of Wolves Sanctuary will employ volunteers to use ambassador wolves to go to schools and businesses for workshop seminars to increase the knowledge about wolves.Through funding and donations the sanctuary also hopes to be able to hold workshops onsite via demonstrations and instructional hands on time with the wolf.
Please follow us on Facebook and Twitter as My Pack of Wolves Sanctuary