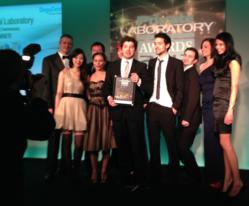 "It's testament to the outstanding effort and teamwork contributed by all our technicians and support team" Michael Joseph, Managing Director of Biterite
North London (PRWEB UK) 6 February 2013
Biterite, the private dental laboratory based in North London, has won the award for Best Dental Laboratory with more than three technicians at the first ever Private Laboratory Awards.
The event, held at the prestigious Royal Garden Hotel, Kensington on 25 January, was attended by owners and technicians from many of the industry's leading laboratories, as well as by representatives of major sponsors.
On a good night for the laboratory, opened in 2007 by former dental technician Michael Joseph, Biterite also came runner up in the Most Innovative Laboratory category.
"It's a huge honour for us", said Managing Director of Biterite, Michael Joseph. "It's testament to the outstanding effort and teamwork contributed by all our technicians and support team. I'm absolutely thrilled, and to be the first ever winners of what I am certain will go on to set the benchmark for excellence in the profession is particularly rewarding."
The Private Laboratory Awards were hosted by dental publishing and communications company FMC, and have been created to acknowledge hard working teams and individuals within the technical dentistry industry.
Biterite provides the highest level of quality and technology in dental restoration. The lab is not only an aggressive early adopter of new technologies and practices, but also a heavy investor in personal development of its team. It pursues a strategy of continuing on-the-job training, sponsoring college-based training for its younger technicians alongside their laboratory duties.
As a qualified and time served dental technician himself, Michael Joseph places quality of work and commitment to the dentists for whom the lab works at the heart of building Biterite's success.
"It was an amazing feeling", Mr Joseph said. "It was unexpected and I am really honoured that we won. Winning means a great deal to me and to our staff. It confirms to us that we are doing a really great job, and is a verification for our new and existing clients that our work is of an extremely high standard."