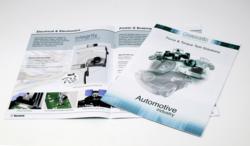 Sterling, Virginia (PRWEB) February 06, 2013
Mecmesin has announced the release of a new brochure showcasing the force and torque testing solutions the company offers automotive component suppliers and OEM vehicle manufacturers.
Components failure is costly, leading to lost time during manufacture, vehicle recall or expense to the end-user for repair and replacement. Safety-critical features must never fail, so total compliance with standards is essential. The brochure demonstrates how force & torque testing is an essential requirement in the development and manufacture of automotive components and subassemblies in order to:

Monitor consistency of components and materials performance from design to tooling to manufacture
Evaluate supplier build quality by batch testing goods-in
Identify component defects, enabling rapid response and production line adjustments
Ensure compliance with stringent industry safety standards
Force & torque measurement can be used for the quality control of structural and mechanical components; safety systems; electrical and electronic components; braking, steering and suspension systems and vehicle interiors and exteriors.
Test applications covered include air bag actuator testing; car window sliding force; pull-off strength of crimp joint fasteners; seat belt webbing strength; spring testing; steering rack torque measurement; tensile strength and shear testing of PCB components; vehicle door opening/closing force and many more…
The new brochure is available by contacting Mecmesin on +44 1403 799979, by email at sales(at)mecmesin(dot)com, or by download direct from the company's website at http://www.mecmesincorp.com/automotive.html