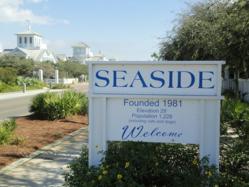 Seaside, FL (PRWEB) February 06, 2013
Seaside, Florida is known for her pristine white beaches, cottages in the shades of sweet tarts and one of the most charming town centers in the U.S. In fact, her charm is so appealing that 'The Truman Show' was filmed in her town center and many celebrities escape to her quiet beaches to relax.
However, she can now add 'cultural diversity' to her repertoire. Apart from being a beachside community, Seaside offers an array of culturally diverse events which not only entertain but educate as well. February 9th and 10th of 2013 will see a different side of Seaside with a farmer's market, a Mardis Gras kids' parade and an authentic Zydeco musical performance.
February 9th from 9am to 1pm will see The Seaside Farmers Market. This produce market is focused on cooking demonstrations, specialty items, artisan cheeses and breads, novice and professional gardeners, seed exchanges and educational aspects of growing and preparing food. It is a celebration of eating and sharing healthy food sources and quality ingredients.
The 7th Annual Seaside Kids Mardi Gras Parade will begin at 2:00 pm in front of Seaside Kids (Seaside Beach store) on February 10th. Both the young in age and young at heart are invited to attend and participate in the parade. Before the parade starts, participants are welcome to decorate their own masks and other Mardis Gras essentials. After the parade the Seaside amphitheater will host a special Zydeco concert guaranteed to entertain with its upbeat Cajun infused beats and cheerful melodies.
Garrett Realty Services offers area info, blogs and events about Seaside, Florida. Other services include an extensive list of Seaside vacation rentals and vacation homes in the surrounding beach communities of South Walton.