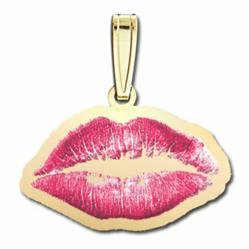 She wanted her fiance to have something unique for Valentine's Day to remind him of their love. She mentioned how his favorite attribute of her, was her luscious lips.
Staten Island, NY (PRWEB) February 04, 2013
This Valentine's Day PicturesOnGold.com presents their sexy new line of Personalized "Hot Lips jewelry". PicturesOnGold.com replicates exact lip impressions onto a piece of jewelry in full color or traditional etched. These voluptuous new custom jewelry pieces are bold, beautiful, bright, and will clearly make a statement.
The "Hot Lips" personalized jewelry concept came about when a young woman expressed the need for a distinct personalized Valentine's Day gift for her boyfriend who was being deployed to Afghanistan. "The young lady wanted to have something unique created for her boyfriend to wear that expressed their love. The boyfriend absolutely loved her lips." It was a great experience to design a piece of Valentine's Day Jewelry based on a customer's needs, and is perfectly suited for the men and women who serve our country or anyone who is away for an extended period of time," explained CEO Daniel Schifter.
The "Hot Lips" Valentine's Day jewelry can be color laser engraved permanently to rectangular, oval, or dog tag shaped jewelry worn with a chain. These "Valentine's Day Gifts," can even be contoured exactly to the shape of the lips. "Hot Lips" are available in Solid 14K Yellow Gold, 14k White Gold, Sterling Silver or Stainless Steel. The only thing PicturesOnGold.com needs is lip impressions on a piece of white paper, which can be uploaded, emailed, faxed, sent by mail or just click a picture of luscious lips using a mobile phone. It's made easy with their "step by step" ordering process. Prices start at $73.95. Since PicturesOnGold.com is manufacturing right in their NYC factory, production only takes one day.
Along with the lovely lip impressions on the front, PicturesOnGold.com can engrave names, dates, quotes, or anything personalized on the reverse side of your "Hot Lips" Jewelry. "Customers get really creative when personalizing the jewelry. With our high definition laser engraving, we're able to allow a large amount of characters without running the risk of not being able to read it easily," said. Mr. Schifter
There are so many options to choose from to make your Valentine feel special. "'Valentine's Day' is a beautiful way of expressing love toward one another, and what better way to reinforce that bond by giving something permanent, and personal such as our new "Hot Lips" jewelry," said Mr. Schifter.
To order go to http://www.PicturesOnGold.com or go there directly by clicking here: Hot Lips Jewelry
###
About PicturesOnGold.com:
PicturesOnGold.com™ has been manufacturing jewelry since 1998 for the jewelry industry throughout the world. 95% of the work is done directly in their factory. PicturesonGold.com is the only company in the world to laser-print full color, sepia, or black and white photos onto jewelry. A sentimental photo can now be downloaded and permanently imprinted on a 14k gold locket or sterling silver lockets. Initials and a message can also be engraved to further develop the personalized jewelry. The website was created in 2005 and has some unique products like Photo Engraved Jewelry, Lockets, Medical Id Jewelry, Custom Sports Jewelry, Religious Medals, Awareness Ribbons, Childhood Cancer Awareness Jewelry, Personalized Name Bands, Monogram Jewelry, and many other choices.
For additional information, log onto PicturesOnGold.com