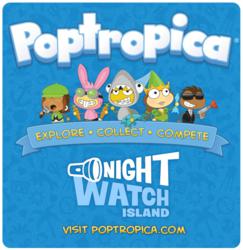 Boston, MA (PRWEB) February 22, 2013
Poptropica players will be called to the rescue when trouble arises at Twin Palms Mall on the site's newest quest, "Night Watch Island." Poptropica Members with Early Access can discover what happens at the mall after hours on the popular virtual world for kids. Non-Members will have access to part of "Night Watch Island" before its public launch on March 14, 2013.
On "Night Watch Island," Poptropicans arrive at the Twin Palms Mall after the stores have closed and the shoppers have gone home, but they quickly discover that they're not alone. From escaped animals to creeping cat burglars, someone or something is watching them and players must stop the trouble at the mall.
"Poptropicans around the world will love playing the fun and engaging adventure on our 33rd Island," said Jess M. Brallier, publisher of Poptropica. "When they arrive on 'Night Watch Island,' they will quickly discover the challenge they face overcoming the mysterious happenings at the mall during the night watch."
Poptropica Members will get an additional "Night Watch Island" gear pack, which includes a Burnt Orange Tan power, Whoopzie Cushion item and, during Early Access only, a Cat Burglar costume. Poptropica Members will also discover a special "Night Watch Island" bonus quest. They will learn that a training robot has gone haywire and scattered valuable collectibles around the mall. Their task will be to explore every nook and cranny of the building and return the items to their rightful owner. Parents can buy Poptropica Membership for their kids in one-, three- or six-month increments.
As it launches this new Island, Poptropica also celebrates a stellar 2012. Last year, nine new Islands launched and Poptropica fans created more than 81 million characters. Looking at the Poptropica Year in Review for 2012, visitors will discover the year's highlights, such as which character Friended the most people and which character is the Super User of the Year.
Hundreds of millions of kids have visited Poptropica since its launch five years ago and the number grows every day. Poptropica players come from more than 200 different countries and territories and have their web browsers set to more than 100 different languages. The virtual world offers kids a safe place to play and connect online. All Poptropica Islands are free to play, and each represents a unique theme and challenge. Kids can stay up to date on news about upcoming new Islands and other exciting developments in the world of Poptropica on the official Poptropica blog.
About Poptropica (http://www.poptropica.com)
Poptropica is a virtual world in which kids explore and play in complete safety. Every month, millions of kids from around the world are entertained and informed by Poptropica's engaging quests, stories and games.
Kids create a "Poptropican" character to travel the many Islands of Poptropica and use gaming literacy to enjoy a narrative that is often rooted in factual history. Problem-solving skills are honed as kids discover and solve mysteries unique to each Island.
There are always new areas to explore in this ever-expanding world where kids can collect objects, read digital books and comics, watch movies and compete in head-to-head competition. Parents can always trust that their children are playing – and learning – in a safe online environment.
Poptropica is published by Family Education Network, a part of Pearson, the education, services and technology company. Pearson's other primary operations include the Financial Times Group and the Penguin Group.