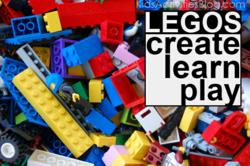 Bake LEGO cookies today or building an awesome LEGO table for the older children for the upcoming birthday.
Dallas, Texas (PRWEB) February 14, 2013
How to build LEGOs is taking on another dimension with the newly published 20+ cool activities on Kids Activities Blog. The LEGO tips are divided into build Legos, organize Legos, Lego activities, Lego party ideas and more.
Some of the out-of-the-box ideas include creating art with Legos, making a DIY instruction book, building a transportable LEGO bin, preparing a LEGO mat before playtime, and making an awesome DIY LEGO table perfect for older LEGO fans.
Building LEGO mazes will help the kids distinguish left from right and teach dimensional awareness. LEGOs can make great spelling games, pattern games or make building a catapult extra fun.
Among the fun LEGO party ideas are making LEGO rings as party favors, baking LEGO cookies, and making a cool LEGO costume.
Another kids favorite are LEGO videos. The Mom approved and kid tested LEGO channel is a favorite on Kids Activities Blog. Detailed instructions on how to set up the Official LEGO Channel Video playlist and how to limit the Mom approved choices on You Tube are also revealed on Kids Activities Blog.
To get detailed instructions and additional tips about LEGO activities, check out Kids Activities Blog during the month of February. Come get inspired to get the kids building and learning at the same time.
About Kids Activities Blog
Kids Activities Blog is a website created by two moms (who collectively have 9 children), Rachel Miller and Holly Homer from June Cleaver Nirvana. It is their daily goal to inspire parents and teachers to play with kids. This interactive website publishes simple things to do with kids twice a day. Kids Activities Blog is a great tool for moms and teachers to find kid-friendly activities that create memories and sneak learning into the fun.