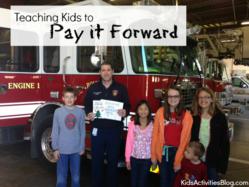 Simple ideas to pay it forward in the community that will have a big impact in the kid's life.
Dallas, Texas (PRWEB) February 13, 2013
Teaching kids essential life lessons is what it is all about for Moms blogging on Kids Activities Blog this month. It is all about showing kindness to a stranger in an effort to pay it forward.
One Mom's idea to teach her children the importance of bringing a little sunshine to someone else's day has inspired a great many more families to do the same. She gave her kids and her friend's kids a $20 bill and asked to show to as many people kindness with as little money possible.
Together they brainstormed ideas about who to approach in the community. The idea was to do random acts of kindness in the hopes to inspire others to do the same. And it worked. They donated boxes of essentials to an apartment complex that had burned down the day before, they baked cookies and made homemade thank you cards for the local fire and police departments. They decorated the entrance tree of their neighborhood. They gave candy and sang songs in the local post office and tracked down the local postal workers and gave them candy and thank you cards. At the end of the day, all of this cost a total of $13.
Another kind idea to make a difference in someone's life is by making bags of joy. The idea is simple. Let the kids help in decorating brown bags and filling them with items such as bottled water, snacks, homemade cookies, gum, coffee or any other treats. Kids Activities Blog features a set of cute thank you tags to personalize the bags. Then let the kids decide who they should take these bags to. Ideas include the postman, the gas station clerk, customer service personal at the local store, the local librarian, the repair person, maintenance man, or the newspaper deliverer.
The ideas are endless. For a complete set of instructions and to get additional ideas to make someone's day, check out Kids Activities Blog.
About Kids Activities Blog
Kids Activities Blog is a website created by two moms (who collectively have 9 children), Rachel Miller and Holly Homer from June Cleaver Nirvana. It is their daily goal to inspire parents and teachers to play with kids. This interactive website publishes simple things to do with kids twice a day. Kids Activities Blog is a great tool for moms and teachers to find kid-friendly activities that create memories and sneak learning into the fun.