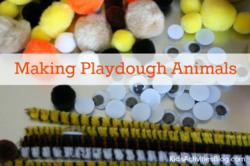 Playing with play dough practices motor skills and makes a great sensory experience for any child.
Dallas, Texas (PRWEB) February 15, 2013
Playdough makes a great indoor activity during the winter months. It is the favorite game for many children of all ages.
Making jungle animals out of playdough with googly eyes and pipe cleaner tails is both super creative and lots of fun. The kids will have a blast at making these easy to do creatures that look great. Materials needed are tan, orange, and black playdough, twine, orange, yellow, black, white and brown pom poms, different sized googly eyes, and animal print pipe cleaners.
A great tip is using inexpensive baking sheets from the dollar store to keep items from rolling off the table and to group the materials into an easy to do self explanatory activity for the child. By organizing the materials in front of the child, the child will more likely be able to assemble independently the animals.
Play with playdough practices motor skills and makes a great sensory experience for the child. For a complete set of instructions on how to make the cute jungle animals check out Kids Activities Blog.
Additional out-of-the-box super creative play with play doh ideas have been released on Kids Activities Blog. Among the most favorite are DIY peanut butter playdoh, playing pretend bakery, making a puzzle with different pasta shapes and playdoh, creating a robot to teach the kids about electricity, and playing all sorts of pretend games such as a pretend birthday party for animals or making pretend clothes for animal toys.
The list of creative ideas for playdough is endless. Come check out Kids Activities Blog and get the kids inspired to play their favorite play dough games.
About Kids Activities Blog
Kids Activities Blog is a website created by two moms (who collectively have 9 children), Rachel Miller and Holly Homer from June Cleaver Nirvana. It is their daily goal to inspire parents and teachers to play with kids. This interactive website publishes simple things to do with kids twice a day. Kids Activities Blog is a great tool for moms and teachers to find kid-friendly activities that create memories and sneak learning into the fun.