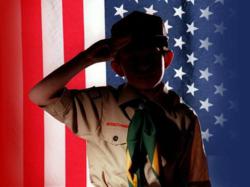 Boston, MA (PRWEB) February 05, 2013
In video commentary on the Boy Scout's leadership considering whether or not to allow openly gay members within it's ranks, Dennis Trainor, Jr, host of Acronym TV says: "While it is not officially decided yet, the leadership of the organization will meet on Tuesday in Dallas where they are expected to approve a proposal that will allow local troops to decide for themselves whether or not to accept homosexual members or to continue to keep a chair firmly nudged under the doorknob of the closet it is currently keeping its gay members in."
The Boy Scouts are facing opposition from some religious groups. Fred Luter, of the Southern Baptist Convention said: "If that is what the leadership is doing, then I think it will be a sad day in the life of the Boy Scouts of America. This is a tradition that so many of us across the country grew up in. We were in Cub Scouts and Boy Scouts in elementary school, and this organization has always stood for biblical principles — all the things that grounded our lives as a young kid growing up. To now see this organization that I thought stood on biblical principles about to give in to the politically correct thing is very disappointing."
The problem, as reported by Katie McDonough writing for Salon.com is "About 70 percent of all Boy Scout troops are sponsored by faith-based organizations, with the Southern Baptists, Catholic Church, Lutheran Church, United Methodist Church and the Church of Jesus Christ of Latter Day Saints representing the most troops … and many are suggesting they will break financial and membership ties with the organization if the policy goes through."
In that same article, McDonough quotes Roger Oldham, spokesman for the Southern Baptist Convention, who had the following to say on the matter:
"Churches of all faiths and denominations, including Southern Baptist churches, will be forced to reevaluate whether they can, in good conscience, continue to host Scout troops given that the Scouts appear poised to turn their backs on this clear biblical and moral issue."
In the video embedded in this release, Dennis Trainor, Jr challenges the Boy Scouts not only to allow gays within their ranks, but to challenge conservative church organizations on the subject of gay rights when he says: "Here is hoping that the Boy Scouts can not only find the moral fortitude to risk the financial backing of church and religious groups, but finds the courage and the wisdom to tell churches that they will not, in good conscience be able to accept money from religious groups who spread homophobia, hate and intolerance."
****
Acronym TV is an independent news program. Opinionated, aggressive, and often funny, Acronym TV shines a seriously unserious, reverentially irreverent light on issues that are often ignored by the corporate media; issues of interest to the progressively minded citizen of the world. Acronym, because you stand for something. Acronym TV is written, produced and hosted by Dennis Trainor, Jr.