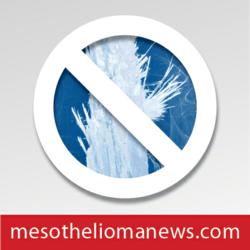 Our country's use of this deadly carcinogen needs to stop.
DALLAS, TX (PRWEB) February 05, 2013
The mesothelioma law firm of Baron and Budd is disappointed by the results of a new study released by the United States Geological Survey (USGS) on United States asbestos consumption. The Asbestos Disease Awareness Organization (ADAO) first reported on the deplorable results of the study last week. Baron and Budd is a platinum supporter of ADAO and fully stands behind the organization's efforts to ban asbestos in the U.S.
According to the report, the U.S consumption of asbestos was estimated to be 1,060 tons, based on the past four years of imports through July 2012. The chloral-kali industry, which produces chlorine and sodium hydroxide, accounted for approximately 57 percent of consumption. The roofing industry accounted for 47 percent.
This means that a projected two percent of asbestos use is unaccounted for in the U.S. All asbestos products are dangerous, but asbestos that is not accounted for can unknowingly place people at risk for exposure.
Asbestos that is unaccounted for has a history of showing up in a myriad of products. In 2007, the popular children's toy "CSI Fingerprinting Kit" was pulled from the shelves for containing asbestos. In recent years, several other household products have been identified as asbestos-containing products.
"Our country's use of this deadly carcinogen needs to stop," said Russell Budd, founder and managing shareholder of Baron and Budd. "And it is shameful to see that the U.S.'s asbestos consumption remains high. Our firm supports ADAO in banning asbestos and urges others to do the same."
The USGS report forecasts that U.S consumption of asbestos will continue around the 1,000-ton level as it has been for the past four years.
ADAO is dedicated to spreading awareness through education and advocating for a ban of this deadly carcinogen. Sadly, many people are unaware that asbestos is still used in the U.S. As a result, there is not enough action being taken in congress to stop the use of asbestos. ADAO's mission is to change that and to put a stop to the use of asbestos.
The mesothelioma law firm of Baron and Budd is a platinum sponsor of ADAO and a major supporter of the organization's mission to place a ban on asbestos. For over 35 years, the firm has been fighting to protect the rights of mesothelioma patients and put a stop to the negligent practices of the asbestos companies.
For more about the USGS study, visit http://minerals.usgs.gov/minerals/pubs/mcs/
For more on products that have been known to contain asbestos, visit:
http://cs.cpsc.gov/ConceptDemo/SearchCPSC.aspx?query=http://www.cpsc.gov/Safety-Education/Safety-Guides/Topics/Asbestos-In-The-Home/&OldURL=true&autodisplay=true
For more information on ADAO and to learn how you can take a stand against asbestos, visit http://www.asbestosdiseaseawareness.org
For more on Baron and Budd, visit http://www.mesotheliomanews.com
About Baron & Budd, P.C.
The national mesothelioma law firm of Baron & Budd, P.C. has a more than 30-year history of "Protecting What's Right" for asbestos sufferers and their families. As one of the first law firms to successfully litigate an asbestos lawsuit, Baron & Budd continues to actively represent veterans, industry workers and others who are suffering as a result of exposure to asbestos. Baron & Budd achieved the largest mesothelioma verdict ever in the state of Texas, a $55 million verdict for an asbestos sufferer and his family in El Paso, Texas. Contact Baron and Budd at 1.866.855.1229 for additional information on mesothelioma treatments, mesothelioma cancer doctors and treatment centers and mesothelioma attorneys.