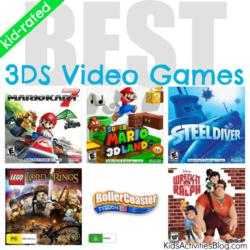 While an App might look fun to an adult, the truth can be found through kid testing.
Dallas, Texas (PRWEB) February 17, 2013
The best 3DS games have been released on Kids Activities Blog. What seems to be a perfect game for an adult may be met with a simple eye roll from a child. Kids Activities Blog has been on a mission to find favorite video games for kids.
For an eleven year old boy, the top four favorite 3DS games are Super Mario Brothers 2, Super Mario 3D Land, Mario Kart 7, and finally Super Monkey Ball. A nine year old boy favors LEGO Lord of the Rings, LEGO Star Wars III, LEGO Pirates of the Caribbean, Rollercoaster Tycoon 3D, and Steeldiver. A seven year old boy favors Mario Kart 7, Pilot Wings Resort, Wreck-It-Ralph, Super Mario 3D Land, and Steeldiver.
Among the most favorite apps for kids are Minecraft, Bike Baron, Car Town Streets, Traffic Panic, Machine World, LEGO 4+ app, Temple Run, and Crate Escape, just to name a few. The list is endless, and each app has been described through the kids point of view, the appropriate age group, and if the app requires a few or not.
For the complete list and detailed descriptions of the kid tested 3DS games and apps for kids, check out Kids Activities Blog this season. Come get inspired to let the kids discover their new favorite games.
About Kids Activities Blog
Kids Activities Blog is a website created by two moms (who collectively have 9 children), Rachel Miller and Holly Homer from June Cleaver Nirvana. It is their daily goal to inspire parents and teachers to play with kids. This interactive website publishes simple things to do with kids twice a day. Kids Activities Blog is a great tool for moms and teachers to find kid-friendly activities that create memories and sneak learning into the fun.