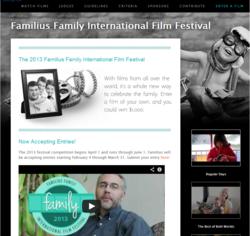 "We want to create a gathering place for professional and amateur filmmakers to showcase artistic films that celebrate, promote, and interpret family life."
Salt Lake City, Ut (PRWEB) February 06, 2013
Familius, a transmedia publishing company with a mission to help families be happy, has launched an international film festival to attract short 15-minute, nonfiction films that explore what it means to live in a family.
The Familius Family International Film Festival accepts submissions until March 31st, 2013. Submissions can be sent to enter a film. A $35.00 entrance fee is required.
"We want to create a gathering place for professional and amateur filmmakers to showcase artistic films that celebrate, promote, and interpret family life," says Familius founder Christopher Robbins. "We believe that the family is the central unit of society and more needs to be done to explore this universal experience."
Familius showcases films digitally on its platform upon acceptance and approval. The annual film festival occurs the first week of April through the first week of June each year, where the finalists, Grand Jury Award, and Audience Award winners are announced. Familius awards $1,000 to the Grand Jury Award winner and $500 to the Audience Award winner. All finalists are showcased or premiered at the annual physical festival each summer.
"It's a unique opportunity," Robbins says, "for filmmakers to explore, create, and share their films with an audience who is family oriented, to create, perhaps, a counterpoint to films that denigrate or make fun of the family experience. We are excited to view their work."
All film finalists are judged by a panel of judges comprised of the film, book, and family industries, and are judged based on the following criteria: Production Quality, Story/Theme/Message, Editing, Compelling Characters/Subject Matter, Cinematography, Music and Sound, Direction and the alignment with the Familius mission.
For more information go to Familius film festival, or contact Matthew Schramer, matthew(at)familius(dot)com.
Familius is a transmedia publishing company focused on helping families be happy. We publish books, apps, articles, and film for marriage, parenting, family fun, education, health and wellness, and children. They can be reached at info(at)familius(dot)com.