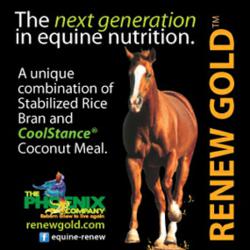 We truly believe that Renew Gold is going to revolutionize the way we feed horses, and now it is more accessible than ever before.
St. Louis, MO (PRWEB) February 05, 2013
Manna Pro Products LLC, a recognized leader in the fields of animal health and nutrition, announces that the company is partnering with the inventor of Renew Gold™ for a national product rollout. Renew Gold™ is a next-generation equine supplement consisting of a unique formulation of energy dense, low starch, premium quality ingredients. The goal of the product is to limit or eliminate the use of high starch based ingredients in the overall feeding program. It accomplishes this by combining high fat stabilized rice bran, Coolstance® Coconut Meal and Flax, providing an innovative efficient formulation that is lower in starch than grains or sweet feed.
"We're looking forward to working with Manna Pro on this initiative," said Win Wolcott, creator of Renew Gold™. "We've been supplying Renew Gold to some of the top professionals in the equine industry, and they're all very happy with the results. Top riders Sherry Cervi and Steffen Peters now rely on Renew Gold in order to remain competitive at the highest level. We're confident that with Manna Pro's impressive reputation, we'll be able to take Renew Gold to the next level."
The unique combination of three protein and fat sources and other premium quality ingredients allows Renew Gold™ to provide concentrated nutritional support for horses of all types and uses. Renew Gold™ can improve the efficiency of an entire feeding program while providing usable "Cooler Energy". The product is also calcium / phosphorus balanced so that it can be fed with any type of hay.
"I'm very excited about adding Renew Gold to the portfolio of equine products we offer," said John Howe, president of Manna Pro. "We truly believe that Renew Gold is going to revolutionize the way we feed horses, and now it is more accessible than ever before. Through our relationships with chain accounts, distributors and direct dealers, Manna Pro reaches more than 15,000 retail stores. "
About Manna Pro Products LLC
Manna Pro Products LLC produces high-quality animal nutrition and care products for a broad range of animals. Its largest group of products is associated with horses, but the company also produces feed for backyard poultry and goats, rabbits, cattle, pigs, and companion animals. Manna Pro's product lines primarily serve the "lifestyle farmer" market – people who own acreage with farm animals, and operate their farms as a hobby rather than a business. The company's flagship product – Calf-Manna® – has been a staple of animal owners for more than 80 years, and Manna Pro introduced a new product, Renew Gold™, in 2013. For more information visit http://www.mannapro.com.