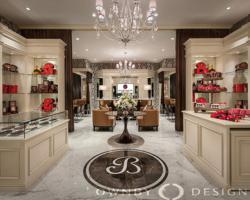 Phoenix, AZ (PRWEB) February 05, 2013
Chocolate master Julia Baker opened her new retail store at the Biltmore Fashion Park located between Williams-Sonoma and White House/Black Market at the high-end shopping center, near 24th Street and Camelback Road.
Wine and champagne tasting can now be paired up with the delicious confections, recreating a feast of sophistication for the palette. For the execution of this high-end chocolate boutique, Julia Baker resourced architect Mark Candelaria and Ownby Design for its interiors, along with Schultz Development. The design of the store reflects the sophistication and style that reflect Julia Baker's elaborate chocolates, staying true to her vision.
The renowned chef makes and sells boxed chocolates and chocolate bars through the website and high-end retailers, including Neiman Marcus, Saks Fifth Avenue, AJ's Fine Foods and Whole Foods. She also caters to celebrities such as Alicia Keys, Jennifer Aniston, Bono and U2, Reba McEntire, and Elton John.
The wine bar, which can be rented for private events, accommodates as many as 30 guests. Prices for special engagements range from $24 to $100 per person, making this a special location for anyone that wants to make their event a memorable one.
About Ownby Design
Ownby Design is a luxury interior design firm that specializes in interior design, architectural detailing, and kitchen & bath design for both new builds and remodels. Claire Ownby is one of the most sought-after designers of luxury residential interiors and the founder of Ownby Design, LLC. With her unique fusion of minimalism and lavishness, Claire's designs transform the spaces of everyday living into one-of-a-kind indulgences. Claire and the Ownby Design team have been recognized with numerous industry and community awards throughout the past several years for residential designs in both Arizona and the Hawaiian Islands. Ownby Design currently has design studios in Scottsdale, Arizona and in Waikoloa, Hawaii.