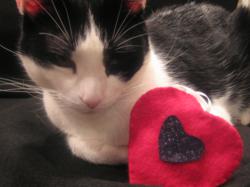 Be My Valentine!
(PRWEB) February 05, 2013
The tag line "close to your heart" which is part of the Smoochdoggie® logo reflects a sentiment that many cat lovers may feel for their pets on Valentines' Day. This is why this promotion has a lot of meaning on this occasion as this new product is launched.
A special gift of a handmade toy heart for Valentines' Day was the motivation for this promotion along with a special price reduction for the Gypsee®, available while supplies last.
The Gypsee® by Smoochdoggie.com is one pet toy that is meant to be enjoyed for years to come. It is not only durable but is attractive enough to display in almost any setting. The Gypsee®is intended to be used indoors for cats and kittens, and even small dogs to give them a place they can be at home for cozy naps and at play.
The real key to maintaining kitty's interest was to find ways to keep things mysterious without being threatening, says designer Mike Faiola. A major design consideration was finding a size small enough for cozy naps, but not too small to feel cramped. The perfect balance was achieved with the flowing fabric sides allowing ease of access either coming or going.
Another key to the Gypsee's success is how it creates the perception of being hidden while being able to see out easily. The flowing fabric cover provides visibility from inside that is perfect for disguising surprise attacks on unsuspecting "prey" or interactive play.
Cats need stimulation and the Gypsee® playhouse is specifically designed to be a place for fun and relaxation. At Smoochdoggie® combining function with fashion in its products is the driving force to keep customers happy.
The Gypsee® is a playhouse like no other.
To find out more about this unique gift go to: http://www.smoochdoggie.com or
Visit on facebook http://www.facebook.com/pages/Gypsee/183806125081658