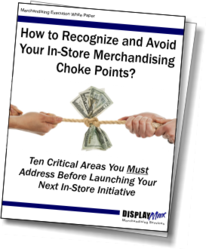 Execution mistakes, delays and failures are very costly when launching a new merchandising initiative.
Howell, Michigan (PRWEB) February 14, 2013
DisplayMax Merchandising Services announces the release of a new report that explores key issues which determine the success of in-store retail merchandising initiatives. The report entitled, "How to Recognize and Avoid Your In-Store Merchandising Choke Points," looks at potential complications that have a negative affect when executing retail merchandising programs at the store level.
"Execution mistakes, delays and failures are very costly when launching a new merchandising rollout or store remodel," says Jason Eddy, Vice President of Operations at DisplayMax. "The most innovative and well designed merchandising concepts can fall short of their stated goals when they meet unexpected obstacles in the stores." This industry report examines the ten critical areas that retail merchandisers need to address before initiating their next program.
"From our twenty years of in-store implementation experience we've identified ten areas where problems and breakdowns are most likely to occur. We call these merchandising choke points," explains Eddy. "A choke point is any situation or procedure issue that causes errors, delays or work stoppage during the execution of an in-store merchandising project. An unexpected choke point can be the difference between merchandising success, mediocrity or failure."
The report delves into execution related problems and provides solutions for the most common "choke point" areas:

Project critical path and scope of work
Store survey accuracy issues
Store management pushback
Material logistics and timing complications
Location and construction roadblocks
Change order notifications and approvals
Third party services capabilities
"Our goal in creating this report is to help retailers, consumer packaged goods manufactures and display companies avoid as many choke points as possible," adds Eddy. "As a merchandising services company, we want them to examine their entire in-store execution plan early in the process. This allows us to anticipate choke points and address them before the project begins. By preparing for all scenarios, their initiatives can be completed on time, on budget and achieve their compliance goals."
Those responsible for the development of in-store merchandising initiatives in their company can visit http://www.displaymaxmerchandising.com/freereport to download their complimentary PDF copy.