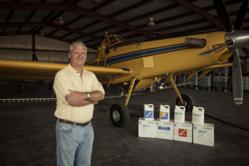 Farming is a passion and every year I strive to do better.
Houston, Texas (PRWEB) February 06, 2013
Arkansas grower Perry Galloway is no stranger to excelling in yield contests. His first year entering the NCGA competition, Galloway won the Arkansas state contest. Now a few years into the yield contests he continues to contend in the corn and soybean challenge.
Galloway's 2012 corn plots recorded two of the top five positions in the state contest. His soybeans were even better with a 2nd place finish. In a drought year like 2012 Galloway was anxious to see what his yields were at harvest time. His irrigated corn resulted in a record 295 bu/acre yield. That's 27 bu/acre higher than last year's yield.
Farming land that's been in his family since 1856 Galloway pushes the yield barrier - raising his standards and his yields. Planting high populations in hot and dry conditions, Galloway needs every edge to produce record results. He uses a full line of Stoller technology helping to reduce stress and maximize his ROI. Galloway applied Bio-Forge® ST on his seed helping plants with a stronger start, uniform emergence and vigorous seedling growth. Making an easy application of Bio-Forge® during his herbicide pass allowed Galloway to save time and money as well as ensuring his crop's maximum yield potential.
Galloway not only farms, but also owns an aerial application company servicing his customer's need for healthy crops and higher yields. With over 7,000 acres on his own operation he's always looking for new technology that will push the yield barrier on his farm as well as his customers'.
"Farming is a passion and every year I strive to do better," explains Perry Galloway. "Bio-Forge is my product of choice because treated crops look healthier. I put it on everything."
Join Perry Galloway and other progressive growers at this year's Commodity Classic in Kissimmee, FL. StollerUSA welcomes all growers to booth #1109 for a chance to win free Bio-Forge and meet with sales representatives, yield contest winners and growers to learn how Stoller technology can offset the effects of transient stress to maximize plant health for a higher return on investment.
Bio-Forge is a yield-enhancing stress reducer for all crops. It reduces the negative effects of plant stress caused by drought, excessive moisture, frost, herbicide damage and other crop stressors. Bio-Forge is proven to enhance a plant's natural ability to withstand stress and maintain normal function. Versatile, Bio-Forge can be applied as a seed treatment, in-furrow or as a foliar spray application.
About StollerUSA
Headquartered in Houston, Texas for over 47 years, StollerUSA is dedicated to helping producers enhance yields by maximizing genetic expression. Only Stoller products contain Stoller's proprietary technology that is proven to ensure optimum plant growth by maintaining appropriate hormone balance and activity. In combination with proper nutrition and good farming practices, the result is enhanced marketable yield, significant return-on-investment and improved stress tolerance. Validated by Universities nationwide, Stoller's unique formulations outperform traditional products and result in healthier, more productive crops that are better able to achieve their full genetic potential.