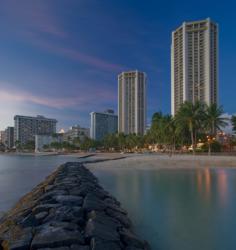 At Hyatt Regency Waikiki Beach, we aim to provide the best in accommodations, innovative dining, and Hawaiian spirit
Honolulu, HI (PRWEB) February 05, 2013
For the sixth year in a row, Hyatt Regency Waikiki Beach Resort and Spa has garnered AAA's prestigious Four Diamond Award, a selective honor awarded to the best in travel lodging. In order to qualify for this selective award, a hotel must exceed in delivering a luxury experience complete with a high level of service, impressive surroundings, and amenities – standards that Hyatt Regency Waikiki Beach strives to meet daily.
"At Hyatt Regency Waikiki Beach, we aim to provide the best in accommodations, innovative dining, and Hawaiian spirit. I am proud of our team for their continued success in fulfilling our goals, and honored to have received this esteemed recognition for the sixth year in a row," says Jerry Westenhaver, general manager at Hyatt Regency Waikiki Beach.
In the spirit of providing the best the islands have to offer, [Hyatt Regency Waikiki Beach completed a $13 million renovation that has reinvigorated the property, and ensured the resort remains at the forefront of Hawaiian destination travel. In late 2011, the property unveiled a transformed third floor common area, two of Waikiki's most exciting restaurants – Japengo and Shor, a refreshed poolside lounge and bar, an upgraded pool deck, and an entirely new Regency Club Lounge.
The AAA rating system is used throughout the United States, Canada, Mexico and the Caribbean, and is reevaluated annually. A Four Diamond hotel is upscale in all areas, and offers an extensive array of amenities as well as a high degree of hospitality and attention to detail. Professionally trained evaluators visit the establishments unannounced to properly assess the services and amenities. The current list was published on January 18, 2013.
About Hyatt Regency Waikiki Beach Resort and Spa
Balanced between the idyllic beauty of the legendary Waikiki Beach and the dynamic city center, Hyatt Regency Waikiki Beach Resort and Spa is a vibrant destination combining relaxation and adventure with true Hawaiian hospitality. Each of the 1,230 guestrooms, including 19 suites, offers Hawaiian elegance and private lanai with panoramic beach, mountain, and city views. With an unrivaled location just steps from world-famous waves, the resort affords effortless exploration of the island's attractions, from Diamond Head Crater, Honolulu Zoo, and Waikiki Aquarium, to world-class shopping, sophisticated dining and expert surfing lessons. Offering endless amenities including luxurious treatments at the 10,000 square foot Na Ho'ola Spa, StayFit Fitness Center, freshwater swimming pool overlooking Waikiki Beach, fresh regional seafood dishes with upscale American cuisine at Shor American Seafood Restaurant, Pacific Rim at Japengo, tropical cocktails at SWIM, and more than 60 boutiques on site. Hyatt Regency Waikiki Beach promises Hawaiian-style excitement paired with the warmth of authentic Aloha spirit.
For more information regarding Hyatt Regency Waikiki Beach Resort and Spa, please contact the resort by phone at (808) 923-1234, or visit the resort website at: http://www.hyattregencywaikiki.com.