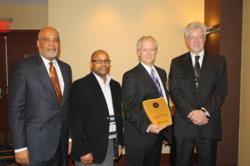 This Design-Build project exemplified the value of an integrated, collaborative design and construction process to achieve the client's desired outcomes.
Atlanta, GA (PRWEB) February 04, 2013
The Carbon Neutral Energy Solutions (CNES) Laboratory at the Georgia Institute of Technology recently received an Award of Merit for Distinction in High-Performance Buildings from the National Institute of Building Sciences' Sustainable Buildings Industry Council (SBIC) for the Georgia Institute of Technology's Carbon Neutral Energy Solutions Laboratory. The award was presented on January 10th at the SBIC Annual Symposium, which focused on the concept of "Fostering Innovation to Go Beyond Green."
Paul Stewart, senior project manager with Gilbane and Princeton Porter, AIA, senior project designer with HDR, presented a case study on the CNES project to te SBIC Symposium. The facility, which also recently achieved a LEED® Platinum rating through the United States Green Building Council (USGBC), is the first of its kind on Georgia Tech's campus and one of very few in the country.
"We congratulate the entire team for receiving this honor and credit Georgia Tech for their thought leadership in wanting to create a building like this," said Mike Brown, Gilbane senior vice president and manager of the company's southeast business unit. "This Design-Build project exemplified the value of an integrated, collaborative design and construction process to achieve the client's desired outcomes. The seamless teamwork among Georgia Tech, Gilbane, and our design partner, HDR, helped to make the CNES lab a model for innovative facilities on college campuses."
Georgia Tech's CNES Laboratory sets a new standard for sustainable design for buildings of its type by optimizing passive energy technologies, reducing electricity loads, and maximizing the use of renewable energy. It houses a variety of energy research programs requiring large-scale (high-bay) and intermediate-scale (mid-bay) capabilities. Gilbane and HDR collaborated with Georgia Tech's facilities professionals and program leaders to establish ambitious goals early, then chart a deliberate course to achieve those goals. The process included:

Extensive energy modeling and a sustainability-oriented value management approach to effectively identify options and make timely decisions to enable project success
A schematic design concept, including a matrix of energy-savings options, that evaluated first costs, life-cycle costs, and carbon savings for each element, allowing the team to meet financial constraints
Integrating the energy modeling process and collaborating with the design team and subcontractors to significantly reduce unproductive time and effort
A fast-track design-build delivery focus
Interactive scheduling sessions to set the initial schedule with Georgia Tech, then reviewing it with the subcontractors weekly, resulting in a well-developed schedule that achieved buy-in from the entire project team
Quick and effective decision making to complete the facility in time for Georgia Tech to open as planned for the upcoming semester
The award was presented at the High-Performance Building Awards Luncheon sponsored by the Modular Building Institute.
"It is especially exciting that an organization like SBIC, which inspires the building industry to achieve high-performance buildings through innovative and efficient use of energy and resources, elected to honor Georgia Tech for its leadership in this field. We are honored to have played a role on this exciting project and with such outstanding partners," concluded Brown.
About Gilbane, Inc.
Gilbane provides a full slate of construction and facilities-related services – from pre-construction planning and integrated consulting capabilities to comprehensive construction management, close-out and facility management services – for clients across various markets. Marking its 140th year in operation and still a privately held, family-run company, Gilbane has more than 60 office locations around the world. To find out what the next 140 years have in store, visit http://www.gilbaneco.com.
For more than 30 years, Gilbane has served a wide variety of market sectors and clients throughout the southeast, including Children's Healthcare of Atlanta, Houston Healthcare, SweetWater Brewing Company, Centers for Disease Control and Prevention, Georgia Institute of Technology, Emory University, Johnson & Johnson, AT&T, and Bibb County Schools.